2.18.18 Alex + Holt
Alex & Holt were married on 2.18.18 at Up the Creek Farms! It was a cool, Florida-Winter day, but the sunshine & theme of the wedding warmed us up! The motif for their fun wedding day was nautical & dockside inspired. We were delighted by each and every decor detail that the couple brought to the Up the Creek Farms boathouse. The decorations were equally fun as they were memorable, as you see when scrolling through the following photos by Kristen Browning Photography. Setting up for Alex & Holt's celebration was such a treat, and not just because there was a Gummy Worm & Gummy Shark candy bar! {We've had our protein for the day! Gummy fish & sharks count as meat, right?}
In theme of ESPN Sports Center Top 10 Plays, our Top 10 Details of Alex & Holt's big day follow:
1. Fishing lures & a hook holding the place cards on the escort table display!
2. Driftwood accents with bright floral blooms!
3. Salt-water taffy favors!
4. A set of "guest book" oars to sign!
5. A small wooden canoe to hold programs at the ceremony!
6. "Catch of a Lifetime" groom's cake!
7. Gummy worms in a tackle box candy bar!
8. A ship wheel & anchors as bold accents to the decor!
9. Message in a bottle – sweet words from the guests for the bride & groom to read later!
10. Knots & netting as table coverings!
Now let's go out on the water, friends! Grab the gummy worms! 😀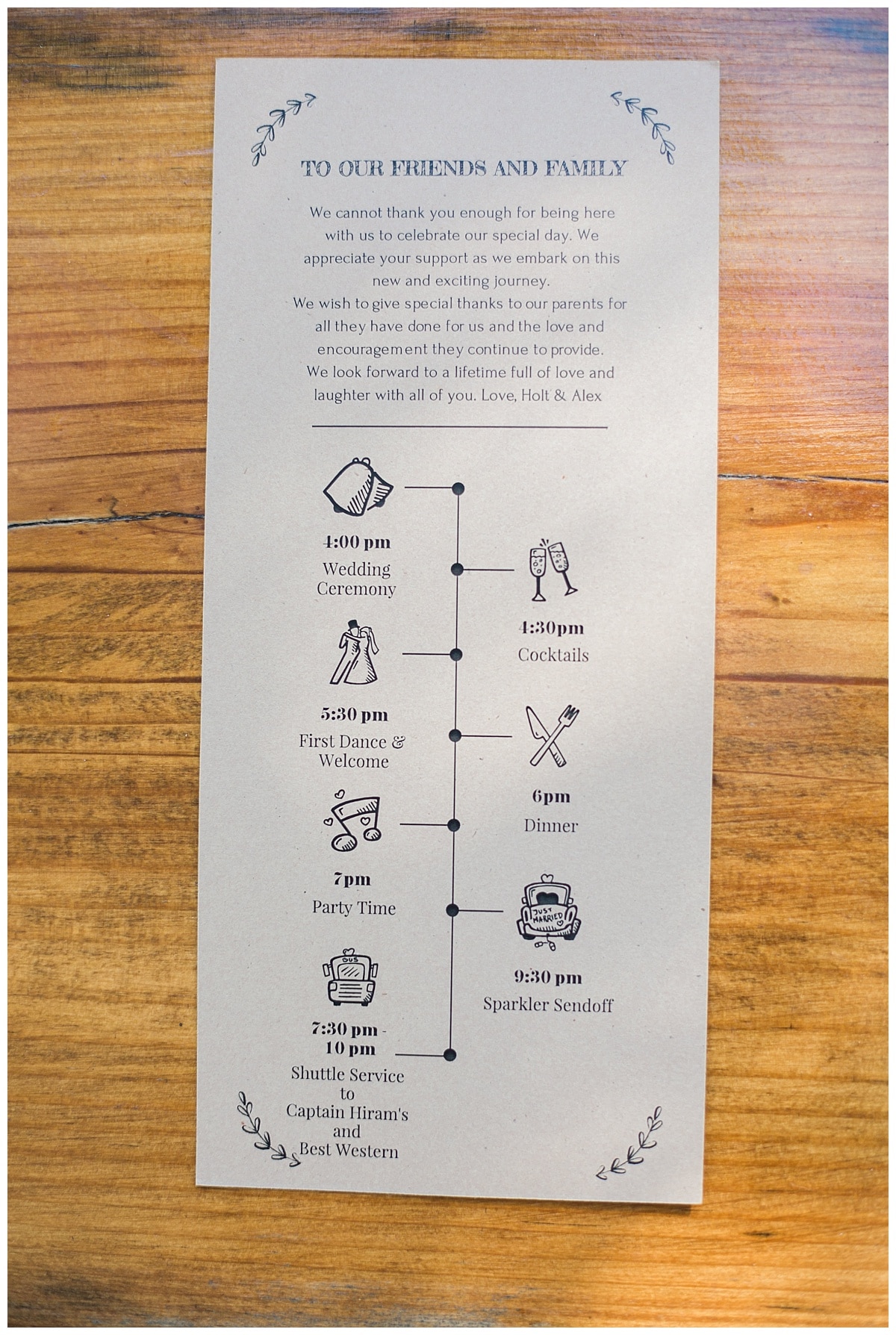 Thank you to the following vendors for making this day such a delight!
Kristen Browning Photography || Cakes So Simple || Executive Catering || Up the Creek Farms Floral || Blender Live Music || Trilogy Salon ||
Crystal and Crates Vintage Rentals || Magic Carpet Ride Trolley || Bright Brands Media Videography || Crane Creek Inn Bed & Breakfast || The Old Fish House Rehearsal Dinner ||