Our Story
The property at Up the Creek Farms is the original homestead of one of the area's first pioneers, Ernest Svedelius. Ernest migrated from Stockholm, Sweden to the east coast of Florida and built a two story farmhouse in the 1870's. He began an orange grove and started a wholesale fish camp at the head of the creek that runs the length of the property to the Indian River Lagoon. Svedelius is purported to have named the town of Valkaria after Valkyre, a maiden of Norse mythology.
Through many years of different owners, the house fell into disrepair. In 1984, the Tuten family acquired the property and repaired the old farmhouse enough to raise two kids and lots of animals for the ensuing 29 years. In 2013, one of those 'kids' returned to the home with a vision. Transitioning from a catering and restaurant management background, Jessica Watson (Tuten), brings her knowledge and passion for event coordination to a new level.
Recognizing the beauty and envisioning a space to share with others, work began to update the homestead into a Bed & Breakfast. With an appetite to entertain, the scope of the project expanded into including a wedding and special events venue. Up the Creek Farms clients are welcomed as friends and can expect nothing less than extraordinary with our facility and grounds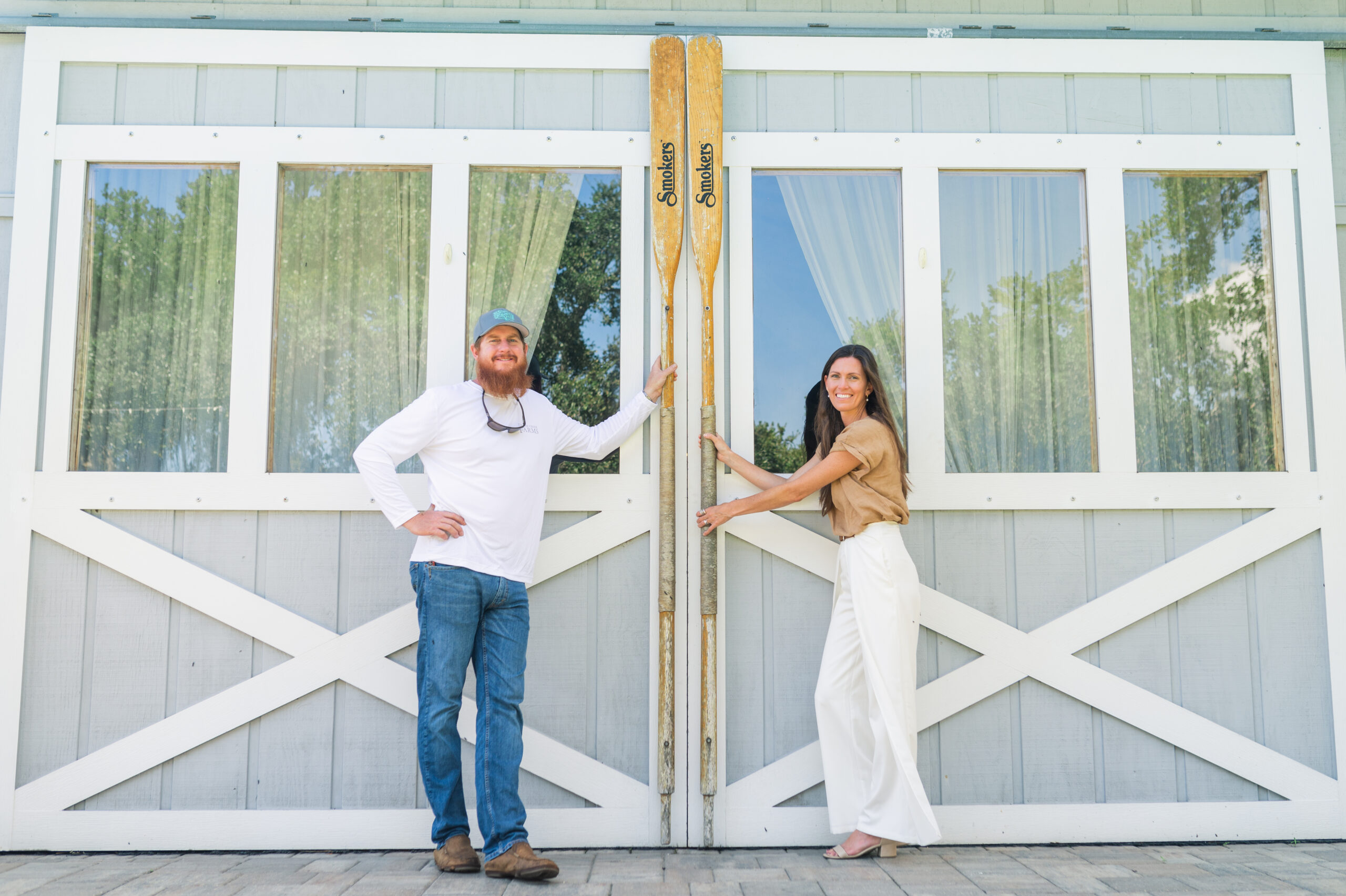 Meet the Owners
---
Up the Creek Farms is owned and operated by Jessica and Tim Watson. The couple maintain a residence on the property with their two labs Murphy and Parker.
Tim and Jessica met in college via a rowing rivalry that was quickly settled. Married at Up the Creek in 2016, the couple welcomed their daughter in 2020, the third generation to live on the property. As owner-operators, overseeing the day to day operations at Up the Creek Farms and thoughtfully planning the venue's evolution is truly a labor of love. Up the Creek was built upon their connection to the property, Jess' vision, Tim's background, and an incredible amount of teamwork. Tim and Jessica have undergraduate and graduate degrees in Mechanical Engineering, and Marketing and Business Management.
Our Team
We've assembled a wonderful crew to help you plan and execute your dream event at Up the Creek Farms. Meet a few of them here.