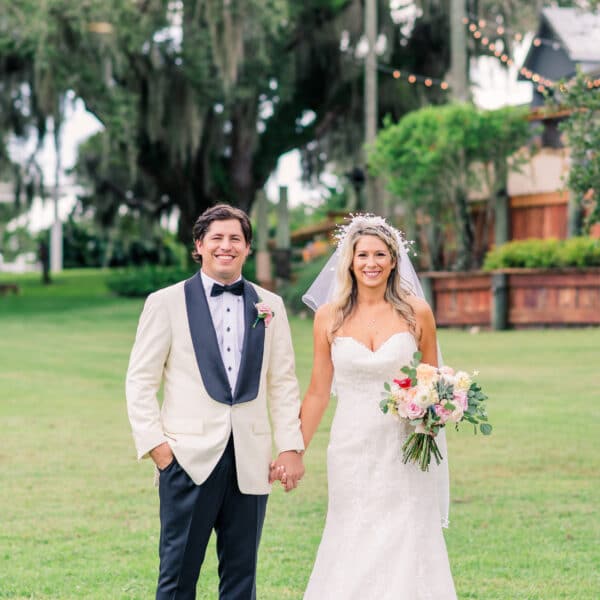 "My wife and I just had our wedding at Up the Creek this past weekend, and it was hands down the best experience with the best staff and people surrounding us. All of our guests including us, loved the venue and said how beautiful it was with the decor spot on, or the beautiful land and boathouse that just stunned everyone. It was a special day and we couldn't have asked for a better place to get married. Highly highly recommend this place!"
"To say all of my wedding dreams came true, would be the biggest understatement! Up the Creek Farms was by far the BEST decision made during the wedding planning process. Liz, our wedding planner, and the entire staff at UTCF made the wedding planning process so memorable and fun!! Liz, Jess (the owner), Kelly (the florist), and the entire staff are all SO detail oriented, thoughtful, and they treat your wedding with as much importance as they would their own. I mean the week leading up to the wedding, they all called me just to see how I was feeling.. How thoughtful is that!!! And don't even get me started on all of the compliments we received regarding how beautiful the wedding was and how much fun everyone had...Trust me when I say this: 1- Liz is seriously the best wedding planner we could've asked for and 2- Up the Creek Farms will surpass your greatest dreams for what you envision!"
"We got married at Up the Creek this past weekend, and it was just absolutely beautiful! Truly the most perfect day of my life. Our planner Briana made the whole process so easy and stress-free. She answered all my questions, helped me with last minute changes, and was so supportive through it all. The owner Jess was also so great to work with! It's so nice to see how involved and caring she is in how your day turns out. I also want to give a special shout-out to the florist and designer Kelly who literally is a miracle worker. She made all my garden fairy dreams come true!! I can't even explain how beautiful all the arrangements and centerpieces were. And our floral hoop over the dance floor!! So whimsical and exactly what I had in mind. I highly highly recommend Up the Creek for your wedding or other special event!! I truly can't praise them enough.THANK YOU GUYS!!!!!!"
"If you're looking for a wedding venue that does it all, with class and perfection look no further. I don't even know where to begin with how smooth our whole Wedding event went. From the very first phone call, talking with Jessica to even see the venue, I was blown away. I was sold! I remember standing there thinking, I'm going to marry my husband here. I didn't even bother to look anywhere else. They do it ALL here! The Spanish moss hanging from the trees was pure romance. It was something out of a fairy tale. Thank you to our wedding coordinator Briana Hoover. She has a real talent for her craft and she is a doll! She makes the decision making SO easy, and she helps you throughout the ENTIRE process. Talk about organization skills! She's got them all! I cannot say enough about her. She is fantastic and smiles all the time! Kelly did our flowers right there at Up The Creek, The amount of detail and work she put into each bouquet and every flower on all the tables was just incredible. Talk about time consuming! If you have the opportunity to have your wedding here, don't hesitate. It was the best day of our lives!"
"Up the Creek farms and the team are absolutely AMAZING!! We just got married on 1/30/21 and everything was perfect!! We could not of asked for a better day, Briana our wedding planner was amazing, Kelly did an unbelievable job on our florals and decor too! There is no other way to describe our special day other than perfect. Thanks to all of the team and their behind the scenes hard work!!"
"I can barely put into words how amazing it was getting married at Up The Creek Farms! Jess is the ultimate professional when it comes to providing a beautiful, wonderfully organized, and truly gorgeous venue. Her staff helped to make our wedding absolutely perfect! The dinner (Executive Catering) was honestly so so good. The DJ (Blue Skies Entertainment) was a blast and kept the dance floor hopping. Kelly our florist/decorator made the already beautiful venue look even more spectacular. She made selecting decor options easy even though there were hundreds of options available. Our wedding planners (Briana/Kiera) were such a pleasure and unbelievably helpful. They were the perfect wedding assistants. All of these services were arranged by Up The Creek Farms. Everyone of our guests were in awe of the beauty and elegance, not to mention they all had such a fun evening. Up The Creek Farms is the most fantastic wedding venue I've ever seen. It could rival any top of the line venues. Thank you all for making our special day, a day filled with wonderful memories!"
"My husband and I recently celebrated our two year wedding anniversary and while reflecting on the day couldn't help but think about what a perfect venue Up the Creek Farms was. The property is gorgeous, the boat house is spacious and stunning, and the Declan house is a historic dream. Everyone went above and beyond to make sure every step of our wedding planning process was stress free. They're personable and do everything they can to meet your needs so that on the day of your wedding all you have to do is show up, get ready, and have fun!! The day we got married at UTCF will forever be our favorite day."
"Up the Creek Farms is the only venue I visited and yet I knew instantly that Luke and I would be getting married there! Not only is it a gorgeous venue, but the people, Jess and Briana and the whole staff, were so sweet and welcoming. Throughout the journey of planning, they were very responsive and helpful. They went above and beyond to make our day the best day ever. They were flexible and took every curve ball we threw at them with a smile. Briana, our wedding coordinator put my nervous heart at ease. She did an amazing job alongside the rest of the team to make my Pinterest visions come to life! We also used UTCF for our florals, which were stunning! The day flew by in a blur, but it was gorgeous and stress-free thanks to Up the Creek Farms."