A Modern Way to Save Your Wedding Bouquet
Talking Flower Preservation with Rejoice & Blossom
Flowers are one of the most important design details of your big day. And nothing is more special than a bride's own wedding bouquet. We know it's hard parting ways with such sentimental blooms, which is why wedding flower preservation has long been practiced tradition. However, we're seeing more and more creative methods that artists are utilizing in ways that are both functional and practical. Enter Darien Rae of Rejoice and Blossom who's giving local brides a unique, modern way to save your wedding bouquet! Using resin to preserve, she's making functional art such as coasters, jewelry, purses and keychains.
Don't want to say goodbye to your gorgeous wedding flowers? Read on to see how Darien is showing brides the best way to make their bouquet last a lifetime.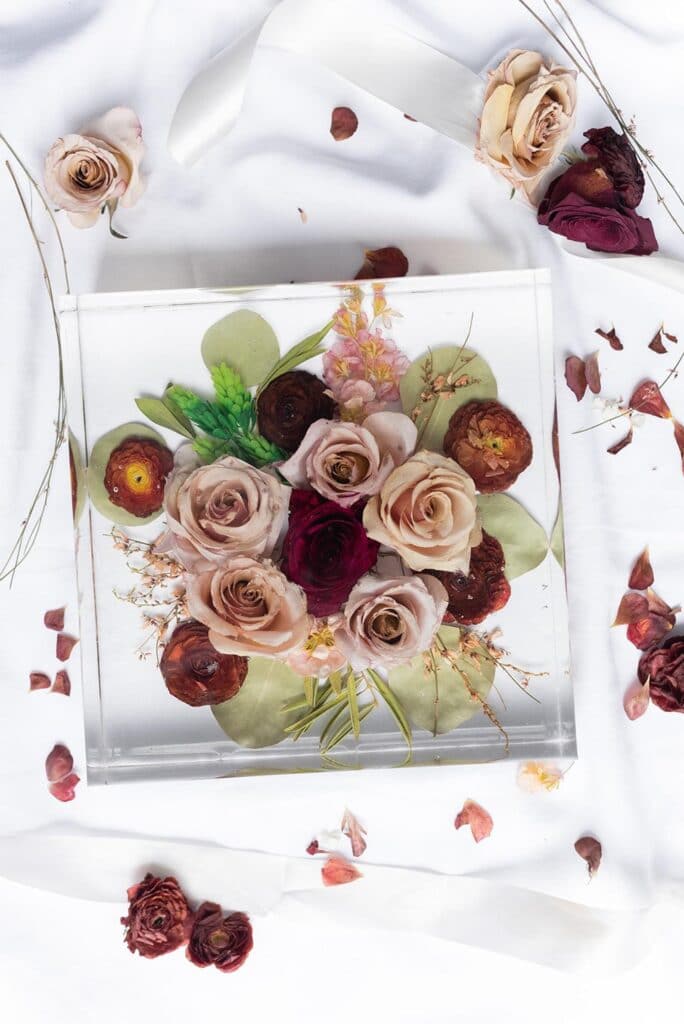 How'd you get started with your business?
I found an artist on Instagram that preserved peonies in resin and started playing around with the medium in hopes that I could make art for myself. The idea that you could buy flowers once and make them live forever really stuck with me. I started small by making floral coasters, but quickly became obsessed with it and here we are today!
What made you want to work with resin?
I was inspired by other talented artists on Instagram. I've worked with all kinds of mediums and it's always fun to challenge yourself to something new.
Can you explain what exactly you do and how long the process takes?
In most cases, brides make reservations for their wedding date. Occasionally I can accept last minute orders depending on my availability. Once the bride makes a reservation we discuss the different options and for non-locals, I instruct them on how to ship their flowers to me. I start drying them after receiving within a couple days following the wedding. After the flowers are done drying I give the bride a few design options to choose from and pour the resin. The whole process takes anywhere from 4-8 weeks.
What's your best selling item?
My best selling item is my 8 inch resin block for wedding flowers. It's a perfect display size.
Can you preserve anything else besides flowers?
Pretty much anything can go in resin. I've preserved vintage cameras, duck feathers, shotgun shells, photos, seashells, and fishing lures.
Are there any types of flowers that don't typically preserve well?
Lilies can be difficult but aren't impossible. Tropical flowers need a little extra love to keep their color vibrant. The only thing I cannot preserve is succulents. They have to be freeze-dried and I don't have the equipment for that yet. Hopefully soon!
Is there anything brides should know ahead of time if they're thinking about preserving their flowers with you?
It's best to plan ahead! Just like your wedding vendors, the sooner you book the better chances you have for locking down your wedding date. I'm fortunate enough to have brides booking into 2021 now and blessed that this fall is looking to be a busy season. I would hate to have to turn away a bride who waited to contact me last minute.
Any special or memorable pieces you'd like to share?
I have so many pieces that stick out in my mind! I had fun creating art for Ashley from K92.3's Obie and Ashley show. My friends and peers were sending me her post about how she was looking for someone local to preserve her flowers. I reached out to her and people were tagging her in the comments of my photos. It was a pretty exciting time realizing that my business was growing enough for people to think of me. It also helped me gain some local recognition.
Any exciting future projects in the works?
I started working on making larger scale items. My first practice piece was an end table. I plan to make desks and coffee tables soon. I even have a friend of mine making a countertop for her hair salon!
You can check out more of Darien's beautiful resin work and order your own piece here!