The property at Up the Creek Farms is the original homestead of one of the area's first pioneers, Ernest Svedelius.  Ernest migrated from Stockholm, Sweden to the east coast of Florida and built a two story farmhouse in the 1870's.  He began an orange grove and started a wholesale fish camp at the head of the creek that runs the length of the property to the Indian River Lagoon.  Svedelius is purported to have named the town of Valkaria after Valkyre, a maiden of Norse mythology.
Through many years of different owners, the house fell into disrepair.  In 1984, the Tuten family acquired the property and repaired the old farmhouse enough to raise two kids and lots of animals for the ensuing 29 years.  In 2013, one of those 'kids' returned to the home with a vision.  Transitioning from a catering and restaurant management background, Jessica Watson (Tuten), brings her knowledge and passion for event coordination to a new level.
Recognizing the beauty and envisioning a space to share with others, work began to update the homestead into a Bed & Breakfast.  With an appetite to entertain, the scope of the project expanded into including a wedding and special events venue.  Up the Creek Farms clients are welcomed as friends and can expect nothing less than extraordinary with our facility and grounds.
Up The Creek Farms' fine wedding and event accommodations sets the standard for luxury weddings and events on Florida's Space Coast. Whether you are hosting family and friends, or meeting with clients and colleagues, Up The Creek Farm's one-of-a-kind location and customizable options make hosting your wedding or event a breeze.
Situated on over eight secluded acres, Up the Creek Farms embodies Old Florida's charm. There are four distinct outdoor spaces to host your event: The Oak Cathedral, The Point, and The Cocktail Lawn and Patio. These picturesque environments are all in-tune with nature, with an appreciation of the area's native landscape at the forefront of their design. 
Our stately Boathouse, a 6,000 square-foot, fully air-conditioned reception space with classic wood framing, sits on the western border of the property. Polished concrete floors and natural wood rafters juxtapose against romantic crystal chandeliers, providing a timeless, versatile backdrop made for any type of event. Other features include a wrap-around deck for cocktails and mingling, spacious water closets and easy access to our other outdoor spaces via paved brick walkways.
The historic Decklan House provides an anchor point with two levels, overnight accommodations and a dedicated space for day-of preparations. Built in 1878, the home has been recently updated and features multiple inviting rooms freshly designed and filled with natural light. French doors open to porches on every side of the home to reveal breathtaking views of the surrounding grounds.
The home includes overnight lodging for two and our newest amenity – The Bridal Suite – a custom-designed dressing room for you to comfortably accommodate your squad and all of the "things" needed to prepare for your big day. Bathed in natural light, The Suite features handcrafted modern amenities including a lounge area, 4 hair and makeup stations, a changing room with hooks, benches with storage, and screened outdoor porches. Best of all, an in-house wedding party attendant is included to keep you happy, hydrated, and organized.
Up the Creek Farms is owned and operated by Jessica and Tim Watson. The couple maintain a residence on the property with their two labs Murphy and Parker and their young daughter.
Tim and Jessica met in college via a rowing rivalry that was quickly settled. Married at Up the Creek in 2016, the couple welcomed their daughter in 2020, the third generation to live on the property. As owner-operators, overseeing the day to day operations at Up the Creek Farms and thoughtfully planning the venue's evolution is truly a labor of love. Up the Creek was built upon their connection to the property, Jess' vision, Tim's background, and an incredible amount of teamwork. Tim and Jessica have undergraduate and graduate degrees in Mechanical Engineering, and Marketing and Business Management.
Hometown: Satellite Beach, FL
Birthday: November 9
You would be surprised to know: I received my Bachelors Degree at 20 years old. My goal is to live on a farm with cows.
Quote I live by: Life isn't perfect but it is still beautiful.
How I came to work at Up the Creek Farms: I went to college in Orlando, had a job there, and soon realized that I hated city life. I wanted to move back to where I grew up. I found Up the Creek Farms and instantly fell in love!
Favorite part of the wedding day: Sending the Bride down the aisle, bustling dresses, and watching the first dances.
Best piece of advice for a couple: Remember to always say, "I love you" and "thank you."
What I do in my spare time: Take care of my chickens, ride horses, hang with family, and anything outdoor-related; camping, kayaking, shooting.
Best vacation spot/dream vacation: United Kingdom or African Safari
Favorite southern dish: Biscuits and gravy!!!!
Hometown: Ft. Wayne, IN
Birthday: April 2
You would be surprised to know: I have 46 first cousins!
Quote I live by:Relax, the day always ends and tomorrow always offers a new beginning.
How I came to work at Up the Creek Farms: I relocated from Napa, CA and was looking for the perfect place to design flowers.  As soon as there was an opening I jumped at the opportunity to apply.  Lucky for me I was hired!
Favorite part of the wedding day: Delivering personal flowers. Oftentimes, the personal flowers are the first floral elements the couple will see.  A bridal bouquet is so unique and special for each individual getting married. It's so enjoyable to watch the reaction to their custom made bouquet!
Best piece of advice for a couple: Remember to be respectful, you are marrying your best friend!  Also build a life together that you both love and are proud of.
What I do in my spare time: I love hanging with my family.  You can catch us at the beach most weekends if we are not traveling somewhere new!
Best vacation spot/dream vacation: Hawaii
Favorite southern dish: Toss up between shrimp etouffee and cornbread with collard greens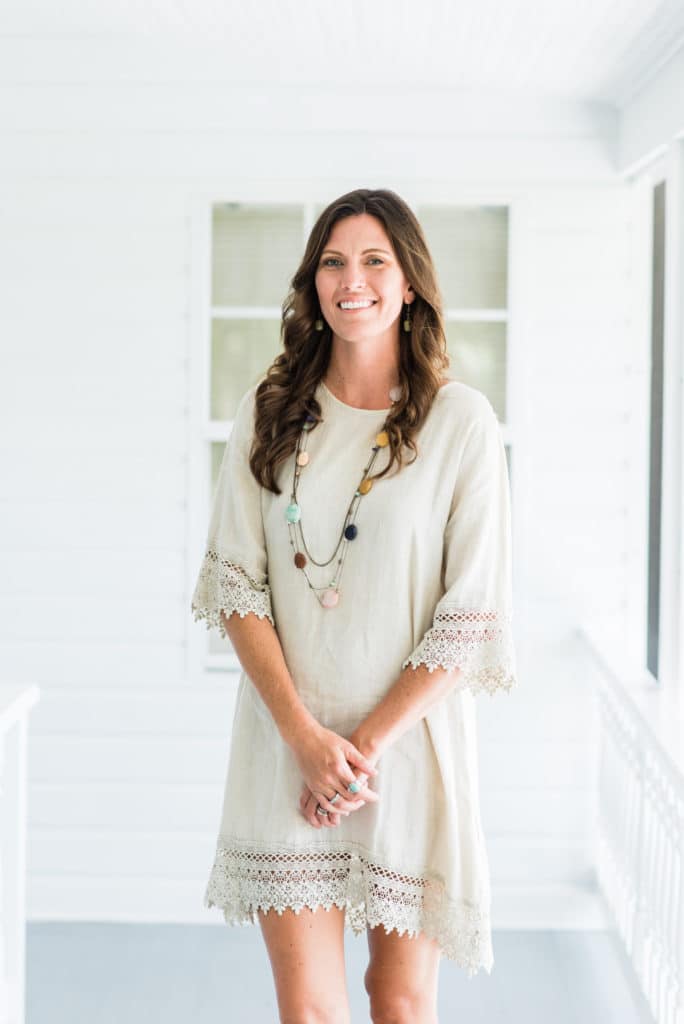 Hometown: Melbourne, FL
Birthday: May 10
You would be surprised to know: I know how to operate a tractor
Quote I live by: Things may come to those who wait, but only the things left by those who hustle -Abe Lincoln
How I met my other half: Rowing in college
Favorite memory from my wedding: Our ceremony was designed in a circle full of vintage furniture for seating with the two of us standing underneath a suspended ring adorned with greenery and flowers that Tim constructed. I loved looking out at my family and friends and so many memories that shaped me and brought us to that moment, it was one of those significant life experiences.
How I came to work at Up the Creek Farms: I'm the girl you see in pictures standing on a 2×4 in diapers watching my parents renovate a 140-year-old farm house. Years later, we had this crazy idea to share an amazing piece of property, thus the beginning of Up the Creek Farms.
Favorite part of the wedding day: When the newlyweds walk into their reception through the barn doors of the Boathouse!
Best piece of advice for a couple: Be each other's biggest encourager.
What I do in my spare time: We love to take the dogs out in the river and let them be labs.
Best vacation spot/dream vacation: A tree house in Costa Rica!
Favorite southern dish: Fried green tomatoes
Hometown: Charleston, SC
Birthday: March 14th
You would be surprised to know: I live in Orlando and commute 1.5hrs to UTCF, but it's totally worth it.
Quote I live by: Have courage and be kind.
How I came to work at Up the Creek Farms: My best friend's brother is getting married at UTCF. His fiancé saw an Instagram post that they were hiring and shared it with my friend who instantly thought of me. I applied immediately! After seeing UTCF in person I knew it was a perfect fit.
Favorite part of the wedding day: Setting everything up and seeing everything come together, and watching the bride walk down the aisle.
Best piece of advice for a couple: Learn each other's love language.
What I do in my spare time: I like to go out with friends, cuddle my cat, and explore new places.
Best vacation spot/dream vacation: My dream vacation destination is Greece!
Favorite southern dish: Grits!
Hometown: Palm Bay, FL
Birthday: February 10
You would be surprised to know: I lived in the Big Apple for a decade.
Quote I live by: Keep on, keepin' on – Joe Dirt
How I came to work at Up the Creek Farms: I've known Jess and her family since high school and emailed her about potential job openings the second I decided to move back to Florida.
Favorite part of the wedding day: Seeing all of the florals and design aspects come together.
Best piece of advice for a couple: Don't hate each other.
What I do in my spare time: I love playing records on my old turntable, reading a lot, and watching anything that's on Bravo.
Best vacation spot/dream vacation: Egypt!
Favorite southern dish: Mac n Cheese
Hometown: New Richmond, WI
Birthday: November 4
You would be surprised to know: I have my PhD in Chemistry.
Quote I live by: May you always have the courage to take a chance. -Irish Saying
How I came to work at Up the Creek Farms: When I relocated to Florida, I knew I wanted to make a career change. I have been a bridesmaid in 8 weddings and love the feelings of excitement and love on a wedding day. I found Up the Creek Farms, fell in love, and applied! Now, I am here and extremely happy with my new career path 🙂
Favorite part of the wedding day: When everyone gets out on the dance floor!
Best piece of advice for a couple: Love is an action
What I do in my spare time: I love to hike, kayak, and read on the beach
Best vacation spot/dream vacation: Best vacation spot- Ireland/ Dream vacation- Greece
Favorite southern dish: Pecan Pie
Hometown: Melbourne Beach, FL
Birthday: June 12
You would be surprised to know: I love downhill skating even though there are not many hills in Florida.
Quote I live by: Don't stress the things that are not under your control
How I came to work at Up the Creek Farms: I was doing gig work and one of the people who employed me mentioned UTCF needed somebody.
Favorite part of the job: Having canine co workers
What I do in my spare time: I like to skate and learn new things.
Best vacation spot/dream vacation: East Hampton / Cape Cod
Favorite southern dish: Fried Chicken