Jennifer + Bradley
A Modern Rustic Wedding
Having been together for 10 years, at this point Jennifer and Brad's lives were already very intertwined. So every detail of their modern rustic wedding needed to be a mix of the couple. From a custom-designed wedding suite by the bride herself to matching Nike running sneakers, there was nothing boring about this creatively modern celebration at Up The Creek Farms! As their motto goes "together is our favorite place to be" and that was clearly reflected on this couple's special day.
Tell us the story and inspiration behind your wedding.
We wanted to take inspiration in who we are as a modern but traditional couple, and the invitations I designed reflected this. I am a graphic designer and obsessed with ampersands so that was an important symbol to me for our wedding day. We aren't fancy people and value comfort so we chose to wear matching Nike sneakers. It was the perfect mix of casual and classic wedding attire.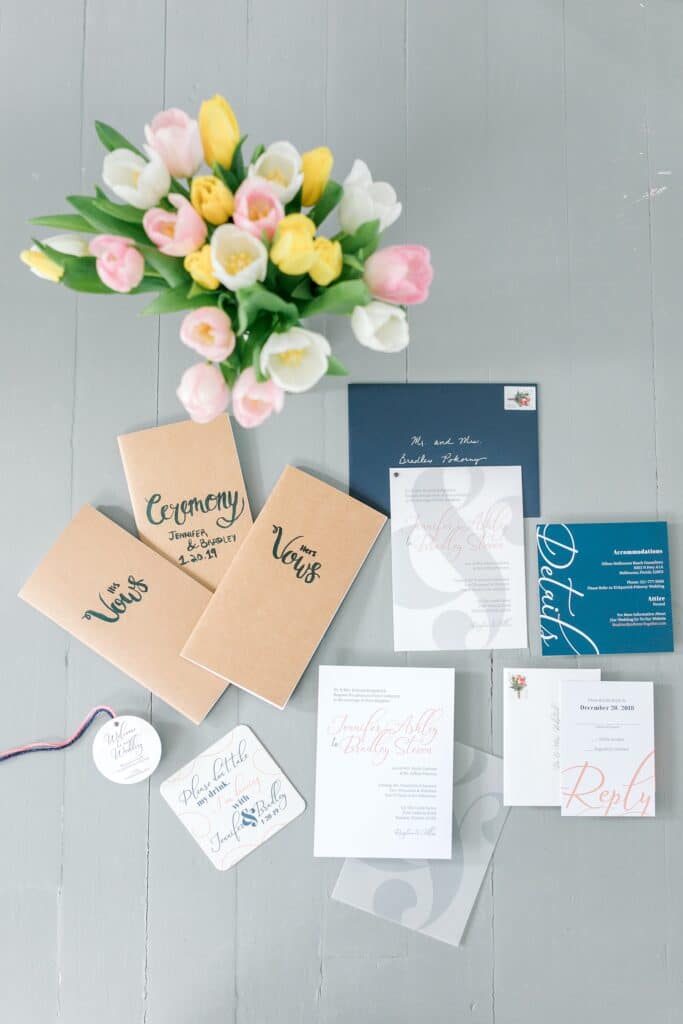 We love playing board games, so having the yard games was so much fun for us! We would often stay up late playing card games or Connect 4 when one of us couldn't sleep. One of my favorite parts of the night was playing cornhole and giant Jenga.
I used to always say I wanted Belle's yellow dress for my wedding, except in white. I think I got pretty close! And Brad gave me a Disney necklace, the rose in the glass dome from the movie, because I still love watching Beauty and The Beast.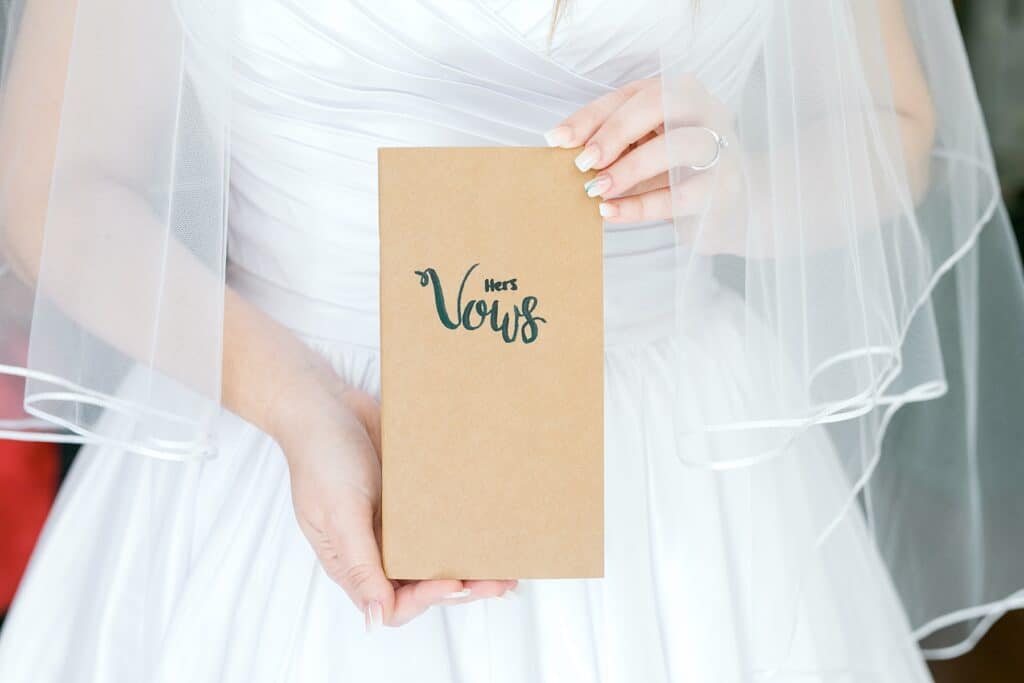 I designed all of the paper goods for our wedding – down to the fonts and shades. I even picked out Pantone specific colors to make sure everything printed and matched for our stationery and signage.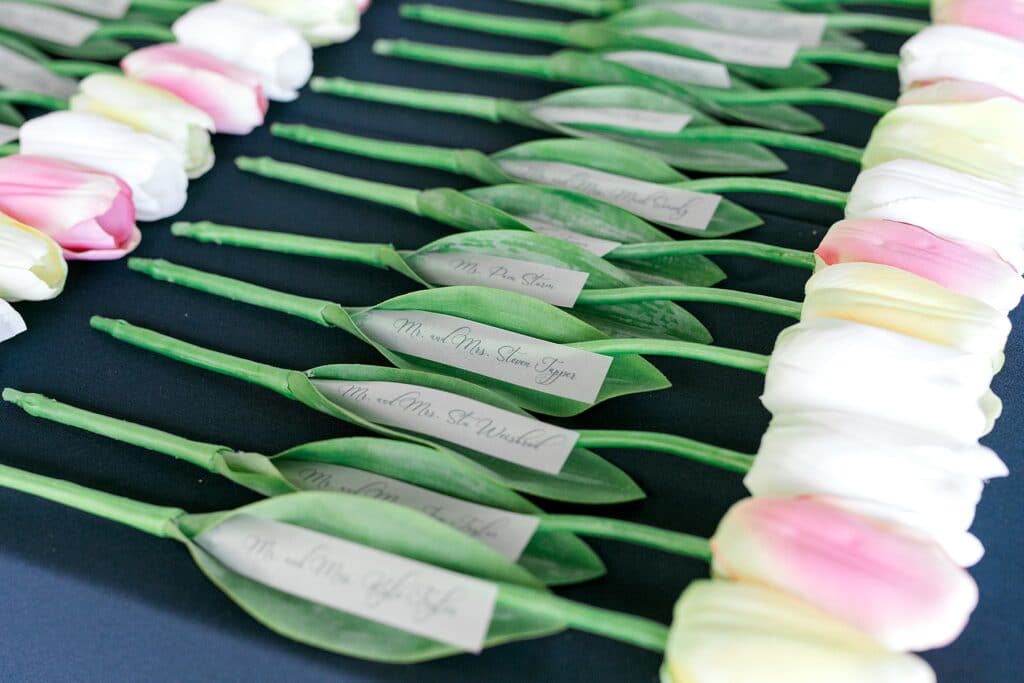 Aside from our UTCF wedding coordinator, my mom and I planned everything together. This was a fun way for me to spend time with her in the process of planning all of the design details!
What were the reasons you chose Up the Creek Farms for your wedding?
Within days of Brad's Christmas morning proposal, I booked a tour with the venue. I saw it on Pinterest and was mainly interested because of the famous oak trees. I loved how calm and beautiful the ceremony backdrop looked – it didn't need any extra decor. The open barn rafters were a great rustic element on their own. Lastly, the backup plan if it rained sealed the deal for me because the barn was just as gorgeous as the yard!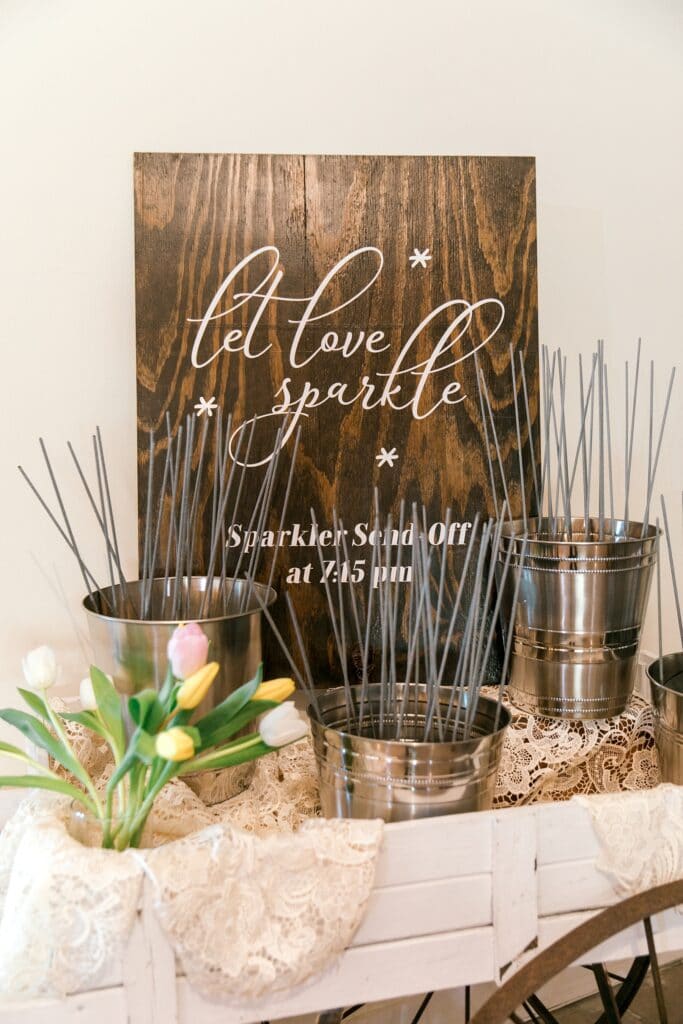 What were the personal details of the wedding that are a great reflection of you as a couple?
Everything picked out was a reflection of him, me, or both of us together – the tulips were inspired by my favorite flower, sneakers were inspired by Brad and the dessert buffet showed guests that we both love a good cookie.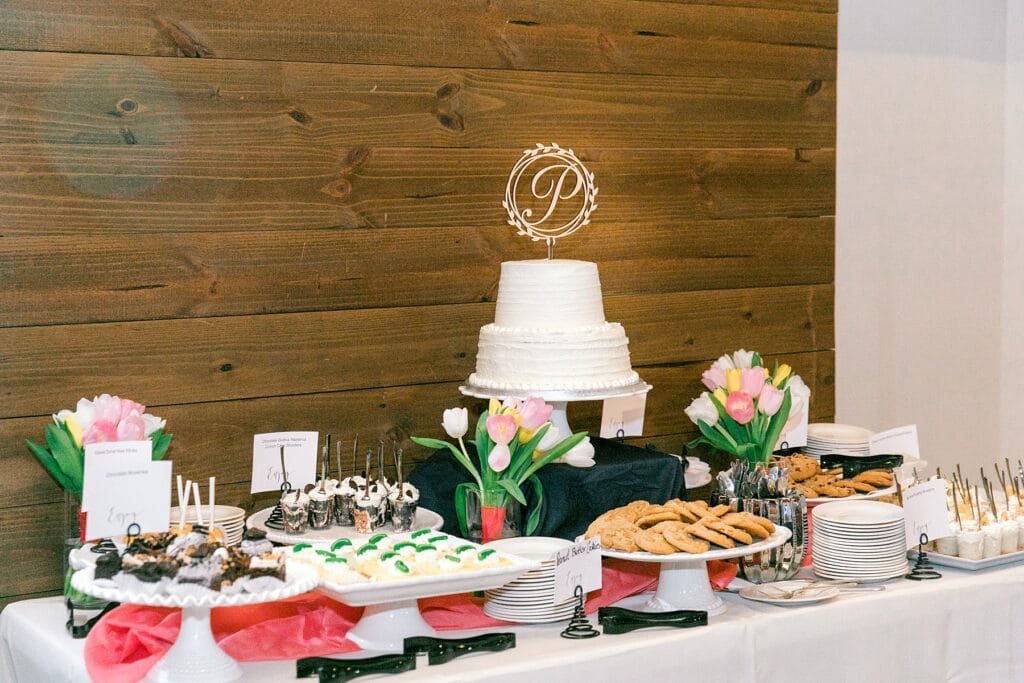 We wrote our vows together. They were more realistic promises that happen every day rather than an overarching and vague idea of marriage. Another detail is that neither of us drinks. I had bubbly grape juice while getting ready, and Brad and I drank tea most of the night.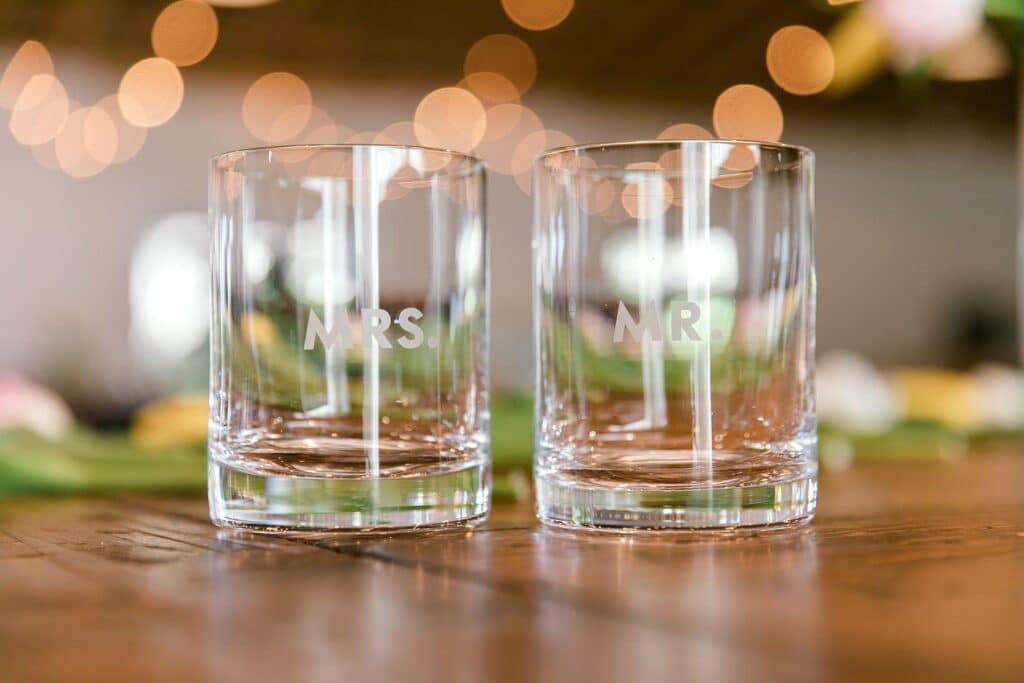 Memories, moments and stories about the day you would like to share
Neither of us left each other's side the entire night. This only reiterates how we're always together and we like it better that way. I remember just feeling so happy and calm to be by his side and not worry about anyone else in the room.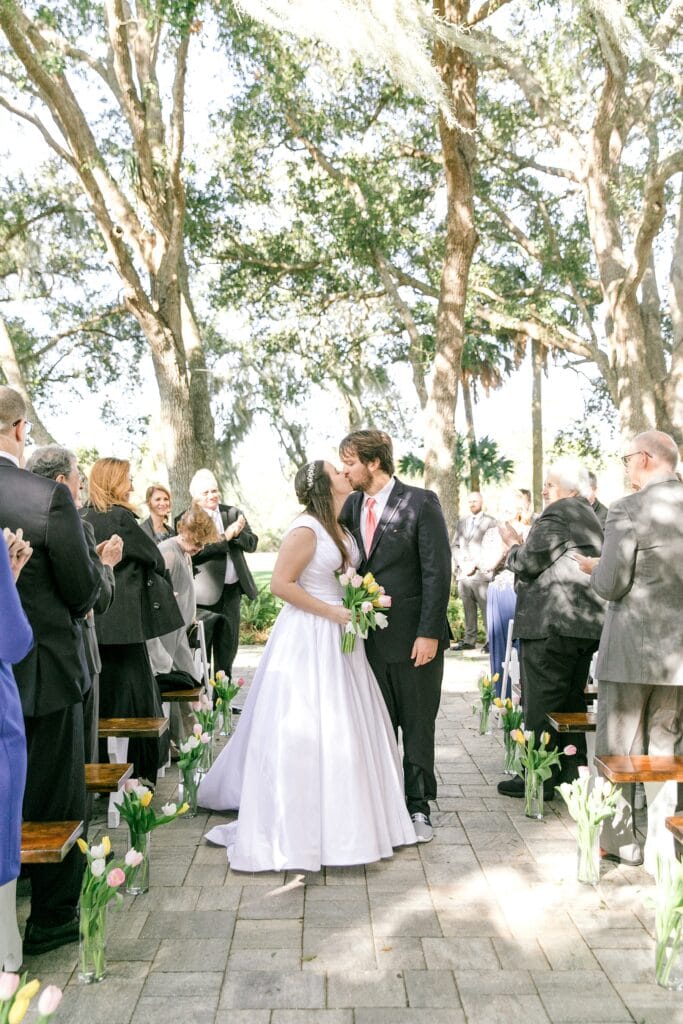 After dinner, Brad's dad and step-mom came to talk with us before they left. Jamie sat next to me and just laid her head lightly on my shoulder – I was so happy to have this time with her, and to have gotten to share our day. She recently passed away from cancer so this is a wonderful memory that I cherish.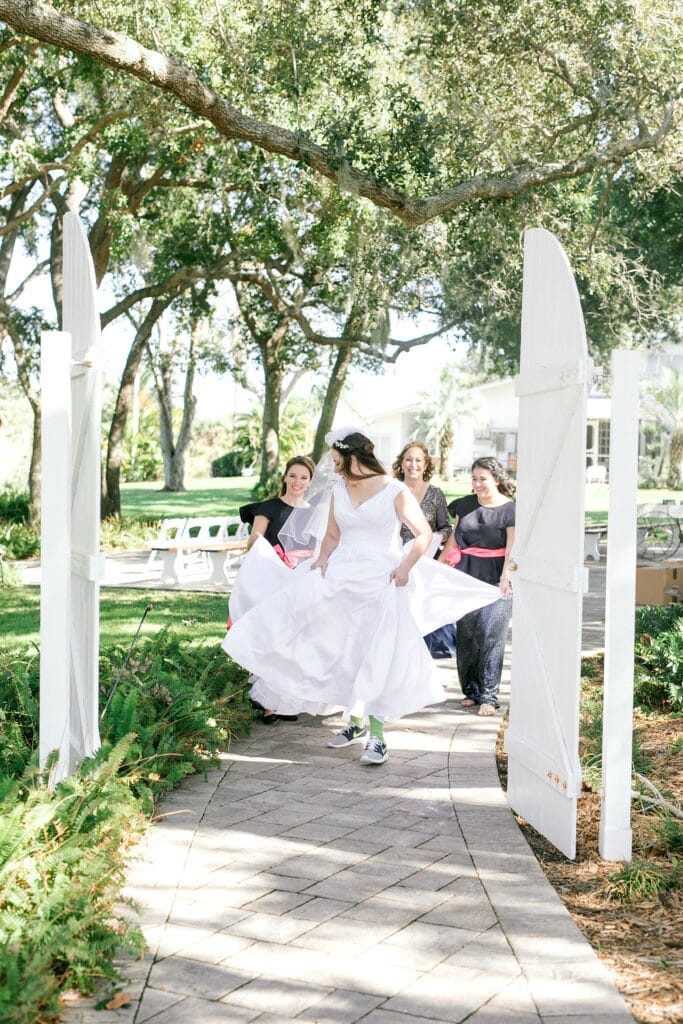 What advice would you give to future Up the Creek Couples?
My advice would be to make the place your own. We aren't a "rustic" couple. Just because it's technically a Florida barn venue doesn't mean it has to be a country-style wedding. You can dress it up or down however you like, just be sure to enhance the natural beauty it brings.

What was the most important lesson you learned while planning your wedding?
Don't sweat the smaller things. Make a decision and stick with it. If it turns out to clash with a decision made later it's okay to change direction.
Thank you to all the vendors who helped make this modern rustic wedding day possible!
Julie Miner Events || Green Turtle Catering || Cake by Publix || Bumby Photography || Moments Metro Salon || Stationery & Signs by Jenkirk Designs