Dessert Ideas for your Wedding
What is your sweet style?
Finding the perfect wedding dessert can be tricky. But wait- is it actually tricky to find the 'perfect' option, or are we making it harder for ourselves because we love ALL sweets? As I am sure you have noticed, standard wedding cakes are meeting their match with their sugary sisters. We've compiled some ideas below to give you the upper hand when choosing which dessert idea is best for you and your guests. At the end of the day, remember- all of these items contain the same ingredients: sugar, chocolate, and a heavenly taste- so don't put too much thought into it. You and your guests will leave the event satisfied, potentially with a little extra "fluff" around the waist- well worth every bite might I add.
Donut Wall Anyone?
As if Krispy Kreme wasn't already notoriously our favorite? Donut walls have made a name for themselves recently, and quite frankly, they deserve it! If you enjoy watching your dearest loved ones bolt from their seats and charge onward, the donut wall is the right move for you. Add in some rice krispy treats and rest assured your perfect dessert display will be devoured in about half a second. Good thing photographers know better and will snap all the pictures before all the loving occurs!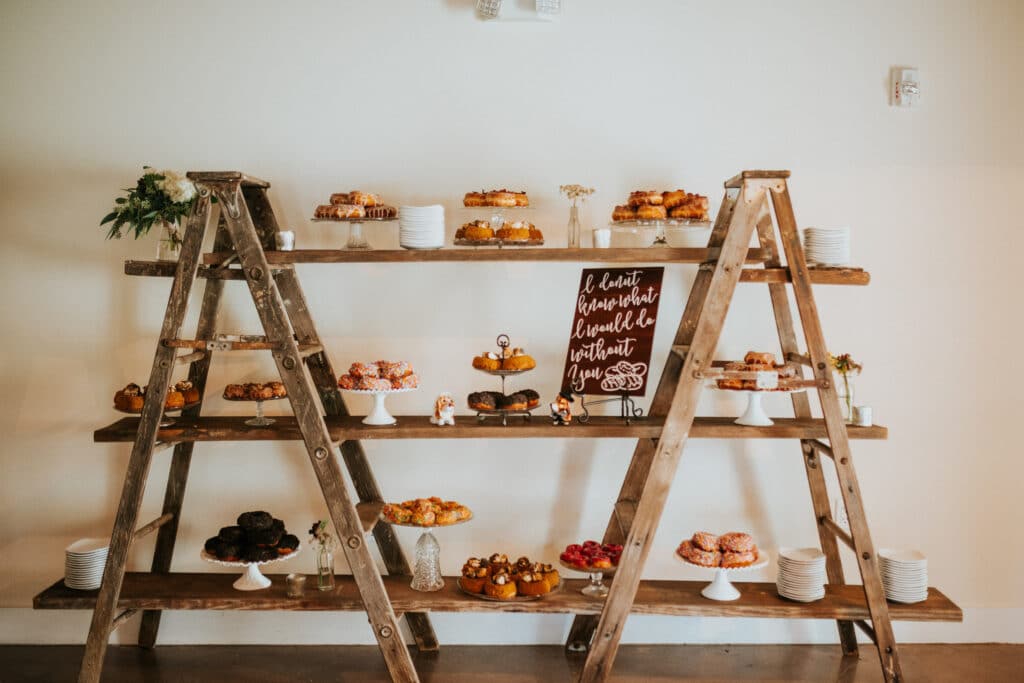 Serve Yourself Popcorn Bar
This is for all you sweet meets salty lovers! We love the idea of allowing guests to choose what is their favorite. Best part of this concept – it can serve as a guest favor AND a dessert. Not hungry for it right away? Seal it up, take it home, and enjoy it the next day as you reminisce on all the wedding buzz. Our sister company Crystal and Crates Rental's Culpepper Cart is the perfect tabletop display for this concept. Throw in a few crates and lace doilies to complete the look and waa laa- you've got a stunning popcorn bar!
A little bit of This & a little bit of That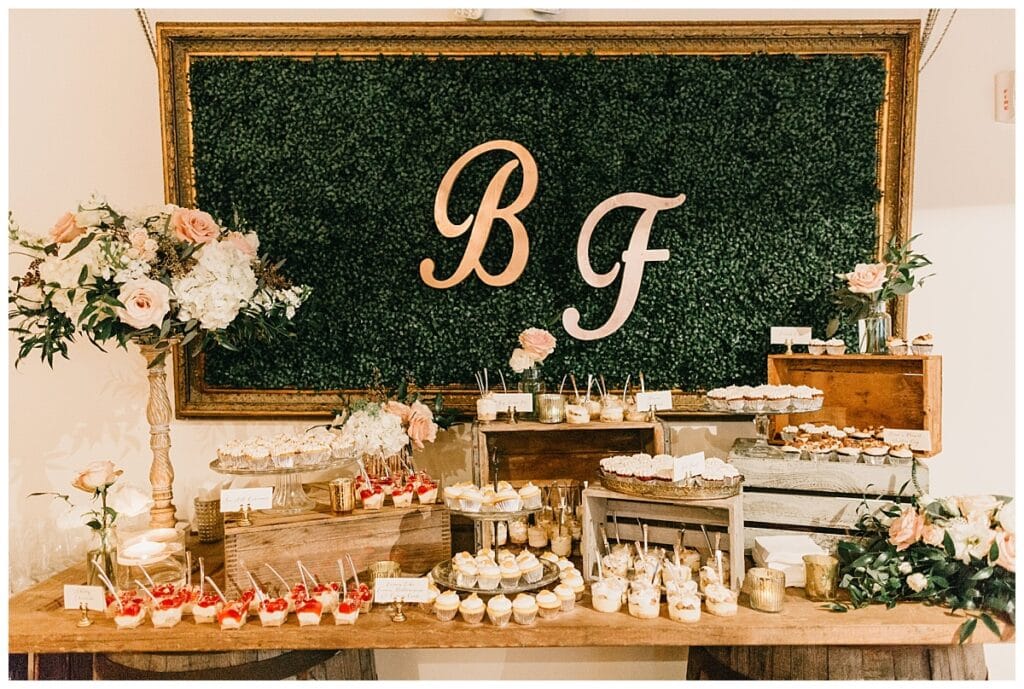 We can't make up our minds. We want it ALL. Great news- dessert buffets are a huge hit at weddings. You aren't alone in your taste buds inabilities to make decisions after being over stimulated. This idea appeases even your most picky guests. Whether its cake pops, dessert shooters, mini cupcakes, bite sized brownies, or mini pies, everyone will find something they love! If you aren't wanting to go full on buffet, consider doing a smaller cake and a few mini additions as well for more variety.
Did someone say Gelato?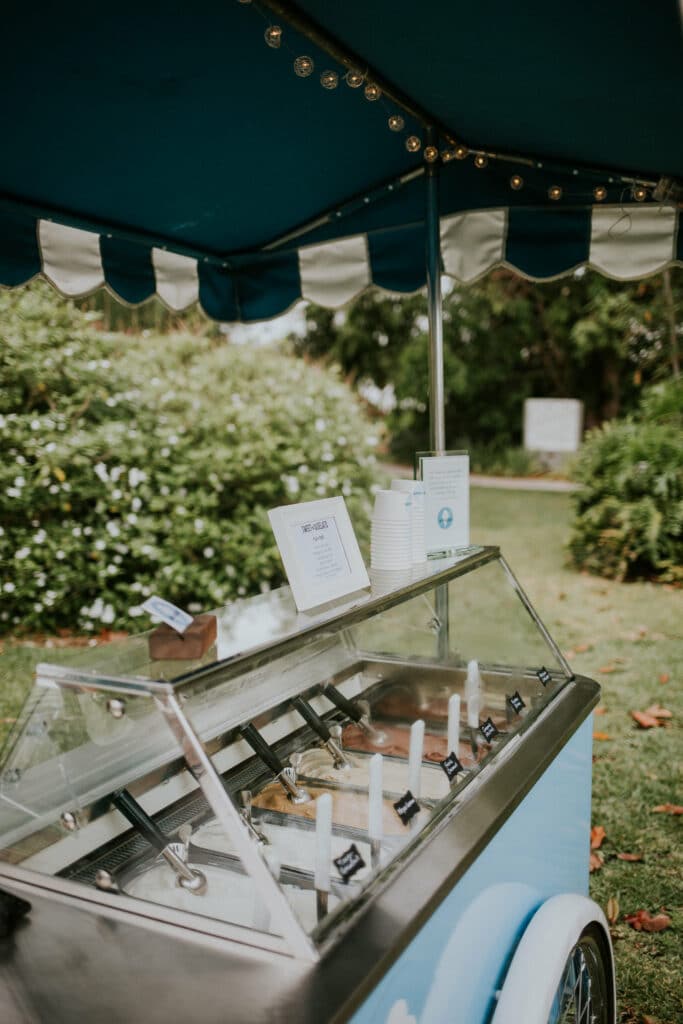 Where are all of our fellow ice cream lovers? We Love the idea of bringing in a Gelato Cart or an Ice Cream bar of some sort. Logistics do get a little tricky depending on whether or not you would like your guests to EAT the ice cream or WEAR it *summer heat* but overall, what a refreshing post dinner snack. You can get creative with the topping options so that each person can create their own individual masterpiece. This one is a crowd pleaser for sure!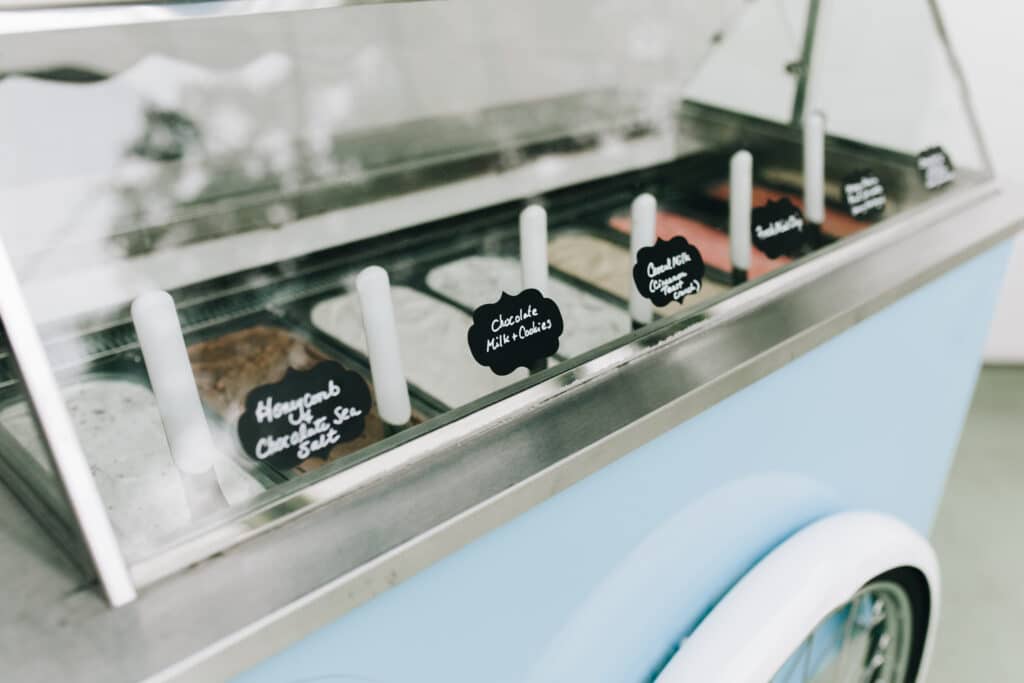 The Classic Candy Bar
Having any children at the wedding ( or adult children) ? If so, we definitely recommend a candy bar. Make sure to get a variety of the sugary goodness and the chocoholic's favorites. And if you don't want to get stuck with a bunch of leftovers and inadvertently wind up at the dentist a month after your wedding with a cavity, be sure to set out some 'To Go' bags as well. Have the DJ make an announcement for the guests to grab a few of their favorites on the way out and you're all set!
Creative Cakes will Forever be Stunning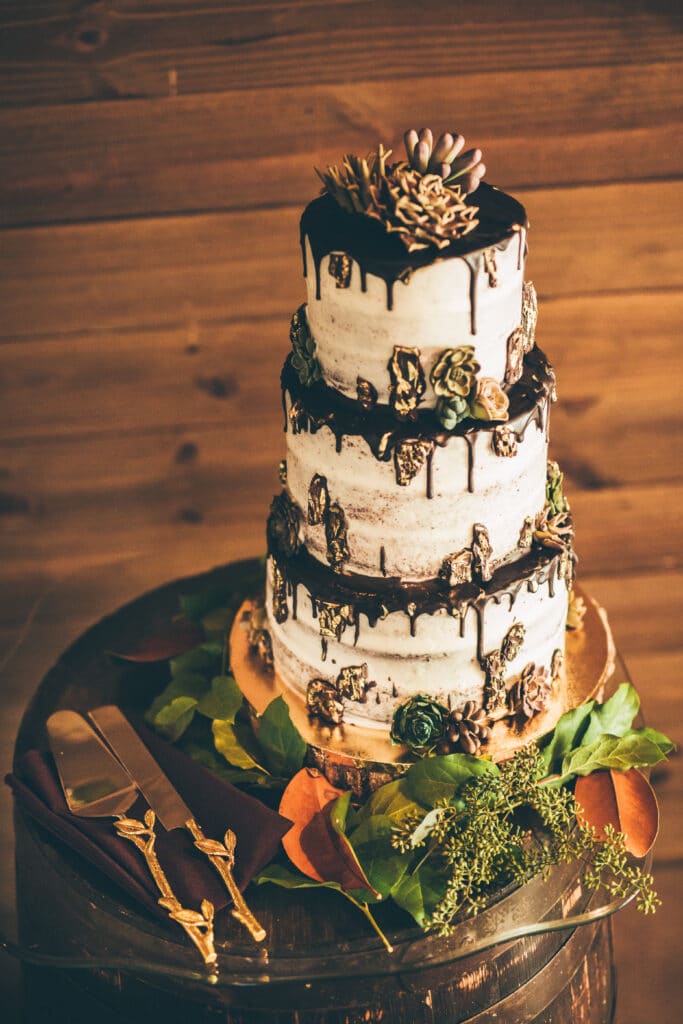 Last but not least, don't underestimate the WOW factor of an awesome wedding cake. Often times, you can choose a different flavor for each layer, giving your guests a few different options. People like cake, and always will. Side note: If you live local, certain bakers will offer you a small cake or a few cupcakes at your one year anniversary so that you don't have to freeze the top layer. Trust me- it will taste a lot better fresh!