Oak Tree Wedding Venue in Florida
Up the Creek Farms
If you're looking for an oak tree wedding venue in Florida and a majestic oak tree ceremony, Up the Creek Farms in Central Florida is the perfect venue for you! Up the Creek Farms is an impressive 8-acre property adorned with an abundance of sweeping live oak trees. This picturesque setting provides a stunning backdrop for weddings and other special events. The majestic oak trees provide shade and create a tranquil atmosphere, perfect for romantic ceremonies and receptions. With its natural beauty and spacious grounds, Up the Creek Farms is sure to leave a lasting impression on your guests and create unforgettable memories for your wedding day.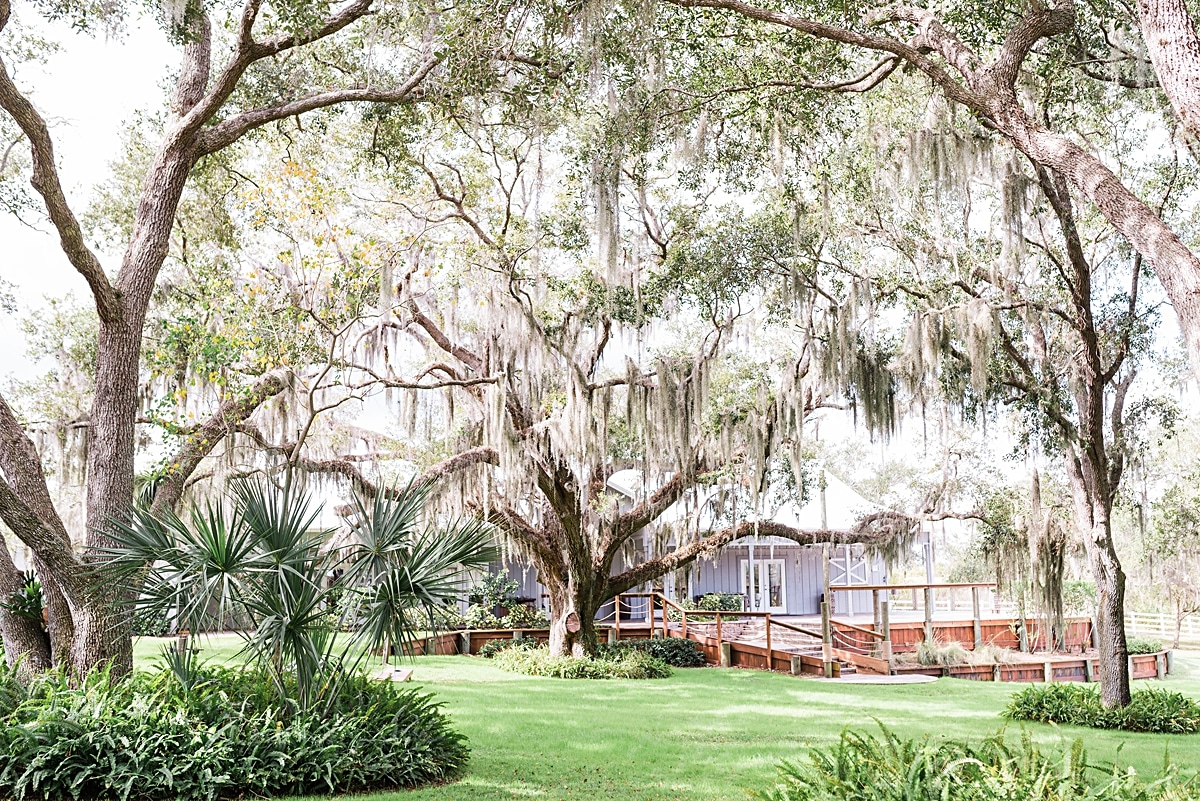 Woodland
Located on Florida's Space Coast just outside of Melbourne and Vero Beach, this venue boasts a lush, green landscape that can transport you and your guests to a serene, wooded environment, just minutes away from the hustle & bustle of the beach. The private location ensures a truly intimate and personal experience for your special day. Nestled under a canopy of Southern Live Oak trees, Up the Creek Farms offers a variety of indoor and outdoor spaces to accommodate your wedding ceremony and reception, and our team of experienced professionals can help you plan every detail to make your special day unforgettable. Whether you're a nature lover or just want a one-of-a-kind woodland wedding experience outside of the typical Florida hotel or beach, come take a tour of Up the Creek Farms.
Old Florida
Up the Creek Farms wedding venue boasts live oak trees with sprawling branches draped with Spanish moss, which creates a romantic and dreamy atmosphere for our guests. Many have likened the feel of our property to a blend of Old Florida meets Savannah, Georgia. The Oak trees and Spanish moss have a commensalistic relationship. Spanish moss is a flowering plant that uses the branches of the oak tree for support. It does not harm the tree in any way, as it obtains its own nutrients from the air and rain. The intricate patterns formed by the delicate moss as it dangles from the oak's strong branches are a testament to the natural elegance of the oak tree and create a mesmerizing sight. As the branches and moss sway together in the coastal breeze, the beauty of nature is on full display.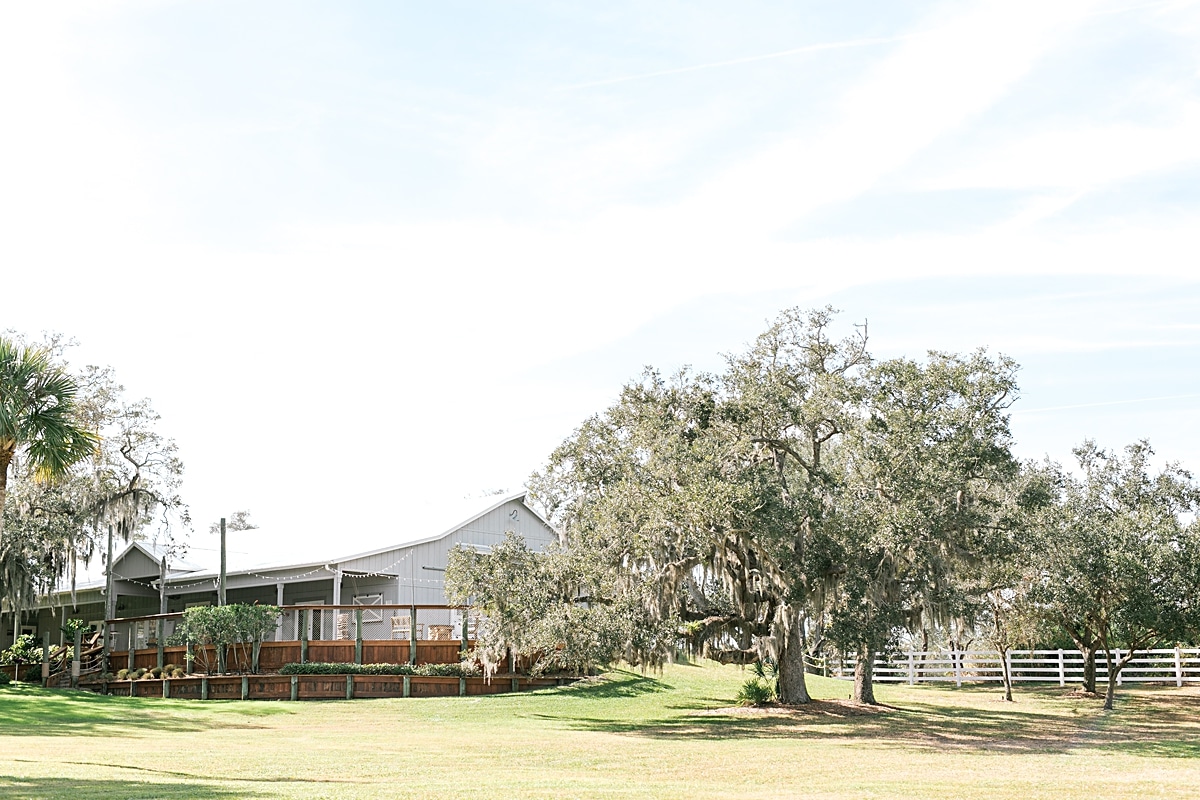 Oak Cathedral Ceremony
The Oak Cathedral is our beautiful ceremony venue that features brick paving and is engulfed under the shade of a thick oak canopy. Lush fern beds and green grass add to the verdant scenery, which provides a natural yet elegant atmosphere for exchanging your vows.
Your wedding party will stroll gracefully down a winding path and through two charming white doors surrounded by towering oaks, making their way towards the ceremony site. At the top of the aisle, you will exchange your vows perfectly framed between two of the stately oak trees.
In addition to providing a stunning natural ceremony backdrop, these trees also offer practical benefits. Up the Creek Farm's regal oak trees offer plenty of shade, which is a highly valued feature among Florida wedding guests. The cool, shaded areas provided by these trees, accentuated by the cool coastal breeze off the Atlantic, make for a comfortable and enjoyable outdoor experience, and can help ensure that guests stay comfortable throughout the entire wedding ceremony.
Further, if there happens to be light rain during the ceremony, the dense foliage of the live oaks can provide a natural canopy of protection from raindrops, keeping guests and the wedding party dry.
With its ample shade and peaceful surroundings, Up the Creek Farm's Oak Cathedral Ceremony Site is an ideal choice for couples seeking a beautiful, natural setting for their wedding.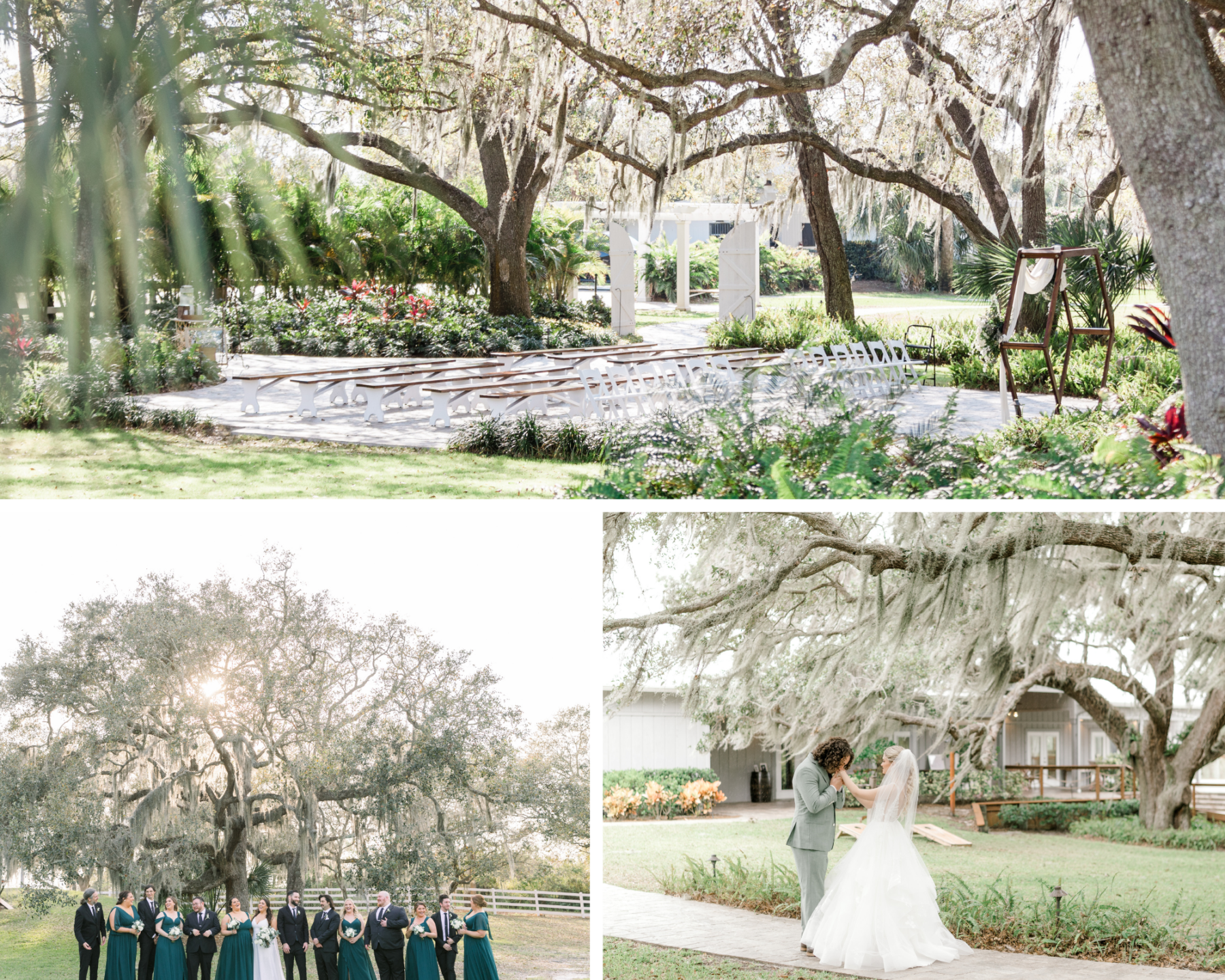 Creek Line
Up the Creek Farms boasts an alluring creekline dotted with a diverse range of plants and trees, including native tropical varieties and Southern Live Oak trees.
Goat Creek meanders along the Northern edge of our property, creating a secluded peninsula prime for intimate moments. Nature lovers may even choose to hold their wedding ceremony on the point of the peninsula, with their feet in the grass, completely surrounded by the water and rugged foliage.
For those looking for picturesque photo opportunities, our covered dock at the edge of the creek is the perfect spot for a private moment cuddled up with your new spouse.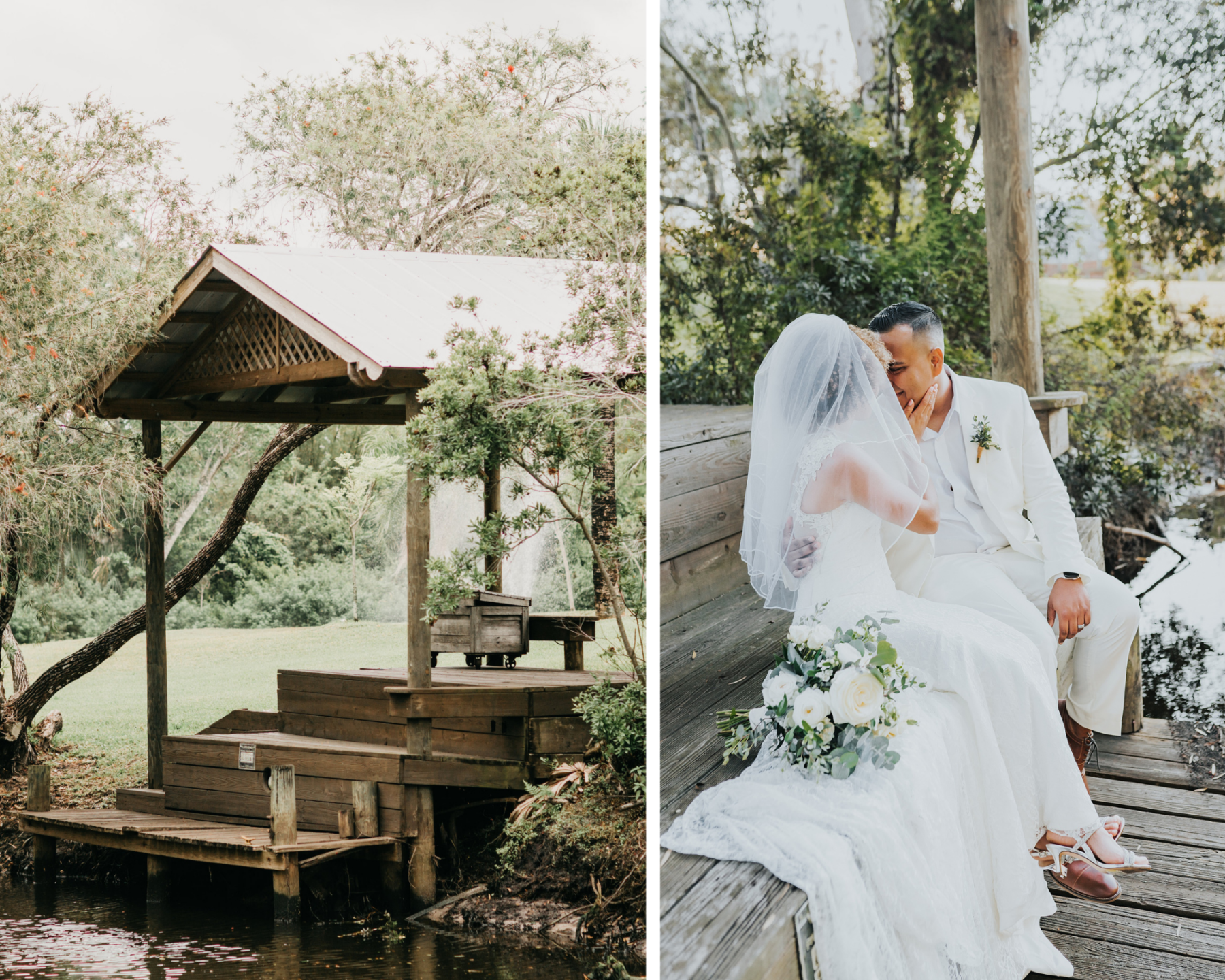 Photography
Southern Live Oak trees are evergreen trees that retain their leaves all year long. They are perfect for our Florida wedding venue because not only do they provide shade all year long and but they also look beautiful in wedding pictures any time of the year.
The largest tree on our property is our magnificent Grand Oak tree that is over 150 years old. This tree sits just outside our Boathouse Reception space and has sprawling branches that extend over 80 feet wide. It provides a stunning backdrop for your wedding portraits, adding a majestic and romantic touch to your images. Its immense grandeur makes it a stately and memorable feature of Up the Creek Farms.
A wooden swing hangs from one of our oak branches, adding to the rustic charm of the outdoor setting as well as providing a fun photo opportunity for guests. It sways gently in the breeze, inviting children and adults alike to take a moment and enjoy the tranquil surroundings.
Decorations
While the oak trees at Up the Creek Farms lend an effortless elegance to your wedding and reception space without the need for excessive decor, we offer a few simple yet impactful decor pieces that highlight the trees' natural beauty, and elevate your guests' experience beneath the oaks.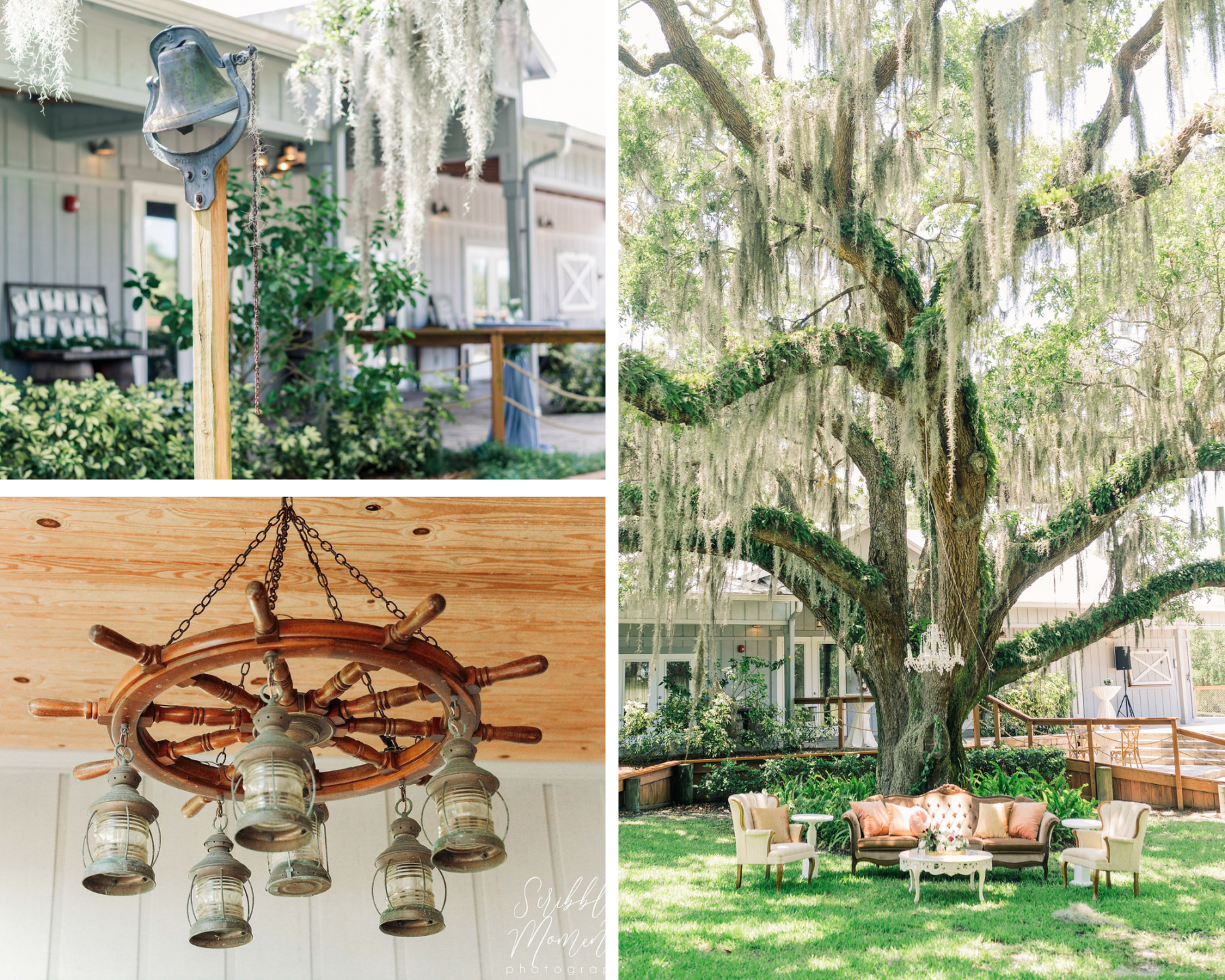 Chandeliers hanging on a branch overhead can add a touch of elegance and sophistication to a lounge area set beneath our Grand Oak. With the gentle sway of the branches and sun catching the sparkling crystals, a chandelier provides a pop of elegance that will elevate your cocktail reception experience. Plus, the intimate atmosphere of an outdoor lounge set creates an inviting ambiance that encourages conversation and connection among guests.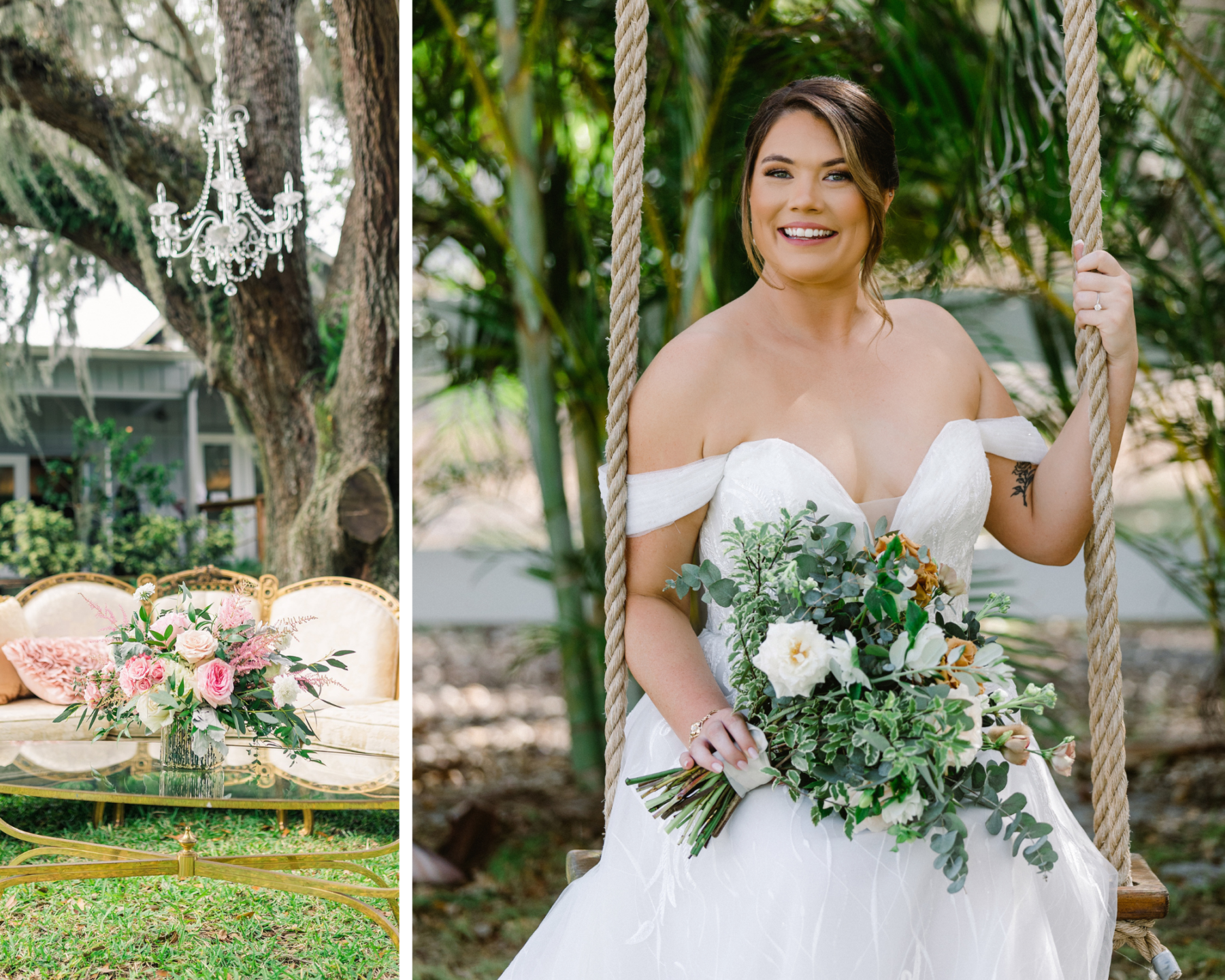 Up the Creek Farms features uplights beneath all of our oak trees, which add a dramatic touch to the evening ambiance of your wedding reception. By illuminating the trees from below, uplights allow the beauty of the oak trees to shine even after the sun has set. The contrast between the darkness of the evening and the warm glow of the uplights enhances the overall aesthetic of our property and creates soft and sweeping views late into the night.