The New Luxury Experience in Bridal Fashion
Wedding Dress Shopping At The Bridal Finery
If you're in the first stage of wedding dress shopping and looking for a new luxury experience in bridal fashion look no further than The Bridal Finery! I recently had the pleasure of meeting this team of talented ladies during a fashion presentation at their Winter Park storefront. This is a Florida bridal store like no other. Specializing in unique designers, off-the-rack dresses, and an impressive array of alterations, The Bridal Finery offers a custom, personal shopping experience that is making brides everywhere swoon. I sat down with their Fashion Director who gave me the full scoop on their modern bridal store concept.
Tell us a little about yourself, what your role is, and how you got your start working in bridal fashion.
I started working at The Bridal Finery as their Fashion Director in June 2018. The owner, Tali Gallo recruited me for the bridal industry in 2013. I was working in the mall and she was my customer. She hired me and we worked together at a different store in Orlando for many years. This company was later sold, Tali and Roberta left the shop and then opened The Bridal Finery in 2017. Six months in and I was hired as their first employee! As the Fashion Director, I create all of our creative marketing projects, manage social media channels, and generate content for our blog.
Can you explain to brides what the difference is between your two storefronts? What are the advantages of buying a dress "off-the-rack" vs. special order?
Although we have two shops, both stores are called The Bridal Finery. Both are only a few steps away from each other and conveniently located in Winter Park. The two storefronts allow us to offer two unique ways of shopping: off the rack and special order.
Off the rack allows a bride to purchase the exact dress she is trying on which saves her time on having to place an order. It works on a first come first serve basis. This is an excellent option for someone who is having a short engagement or doesn't have time to order a dress. It's a fuss-free way of wedding dress shopping because you get to leave with your dress that day. We dry clean the gowns, and they're ready to be altered at any time. We source our off the rack inventory directly from retailers around the country so brides get access to runway dresses and one-of-a-kind pieces. Our rotation of styles and designers changes daily, giving brides more options that aren't normally available in the Orlando area.
Special order is the traditional way of wedding dress shopping and allows you to order a brand new version of the sample you're trying on at your appointment. It can take anywhere from 6-9 months so this option is best for someone who is planning their wedding atleast a year in advance. From raising necklines, opening backs, changing colors, adding straps or sleeves, our special order designers offer endless customization options! During your appointment, a Bridal Finery stylist will share which options are available for the specific dress you're interested in.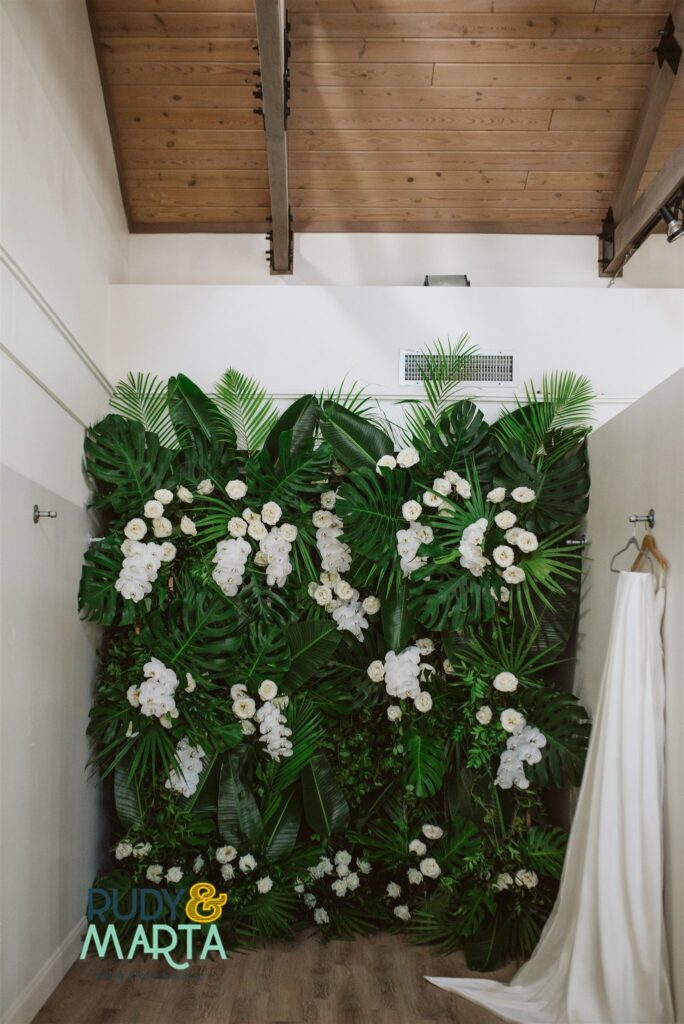 What sizing options do you offer?
Our sizes range from a bridal size 4 to 20 which is roughly 0 – 20 in standard sizes. We have custom sizing options for both our special order designers and our off the rack gowns. The biggest misconception about off the rack dresses is the size on the tag. Wedding dresses are meant to be shaped to a woman's body, which means adding and taking away fabric. Our seamstress can do both to ensure every bride has the best fit. This is a process we go through in every alterations appointment.
What should brides know before booking an appointment that'll make the shopping process easier?
If you aren't paying for your dress yourself, make sure you know who is purchasing the dress before coming in. Conversations about money including who is paying and how much the buyer is willing to spend are conversations that should happen before the bride goes shopping. If a family member is gifting the dress, consider what price or percentage of the dress they would like to pay. We require a 60% deposit so if a family member is not willing to spend the full amount, have them consider paying the deposit, and the bride or another family member can take care of the remaining 40% of the balance. Most family members who are paying for the wedding have not been around the wedding industry in years (sometimes decades!) so they are unsure of what services and items cost today. Having these discussions before the appointment gets everyone on the same page and saves the bride from having awkward exchanges when it's time to say 'yes' to the dress.
What sets your two storefronts apart from other local bridal boutiques?
The Bridal Finery provides a level of service and experience that is unparalleled. Both of our bridal shops are a one fitting room space. This means when a bride is shopping for her wedding dress, she is the only one in our shop. Bridal shops with multiple fitting rooms and different appointments happening at once can feel so overwhelming. Our brides also work directly with the owners who have been in wedding styling for over a decade. Their professional experience makes shopping for a wedding dress easy and stress-free. Tali and Roberta ask the right questions so many of our clients find their dress within the first four they try on!
Are there any wedding dress trends you're seeing going into the new season?
In the past few years, brides were loving ultra-sexy styles, much like designs inspired by BERTA Bridal. While this look is popular amongst Florida brides, the overall feel for current bridal trends is very classic and timeless! Our brides are specifically asking for sleeves, ball gowns, and clean fabrics. We love a classic bride, so this trend is right up our alley.
You ladies are known for your expertise in gown customization. Is there anything design-wise you'd love to see on a bride's dress that you haven't done yet?
We've created so many amazing customizations! From changing the colors of dresses (including blue, red, and black!) to adding sleeves, beading, detachable trains, we've done it all. I personally wish we received more requests for higher necklines with a low backline – It's so fashionable and classic. Being located in Central Florida, our brides rarely request these styles, which is probably due to our hot weather.
Is there a process when choosing which designers to include in your inventory?
We are one of the more curated bridal shops in Florida when it comes to inventory. We hand select every single dress and designer that is brought in. Quality is most important for us. Big name designers aren't always the greatest quality. When selecting designers, we like to only work with those who manufacture in North America. Our special order dresses are made in Toronto and New Jersey. This is because the quality tends to be better and logistics are easier when working together in a similar time zone.
Anything new or exciting in the works for your store in the future?
We are constantly receiving new arrivals! We seriously receive new dresses two to three times a month. Having off the rack options means that our inventory is changing daily. A frequent change in inventory means each of our brides has access to different dresses so they don't have to worry about a friend or relative having a duplicate wedding dress.