Lisa + Richard
A Luxurious White & Green Wedding
Typical unpredictable Florida weather took a tumultuous windy and cold turn on Lisa and Richard's day. But that didn't stop this couple from having a luxurious white and green wedding that was hands down one of the most stunning weddings Up The Creek Farms has hosted to date. The gorgeous details could be seen throughout every aspect of this duo's celebration. From a vintage Prosecco cart and custom signs and napkins to a whimsical reception that transformed our boathouse into a sophisticated garden-inspired setting – this wedding was TRULY magical.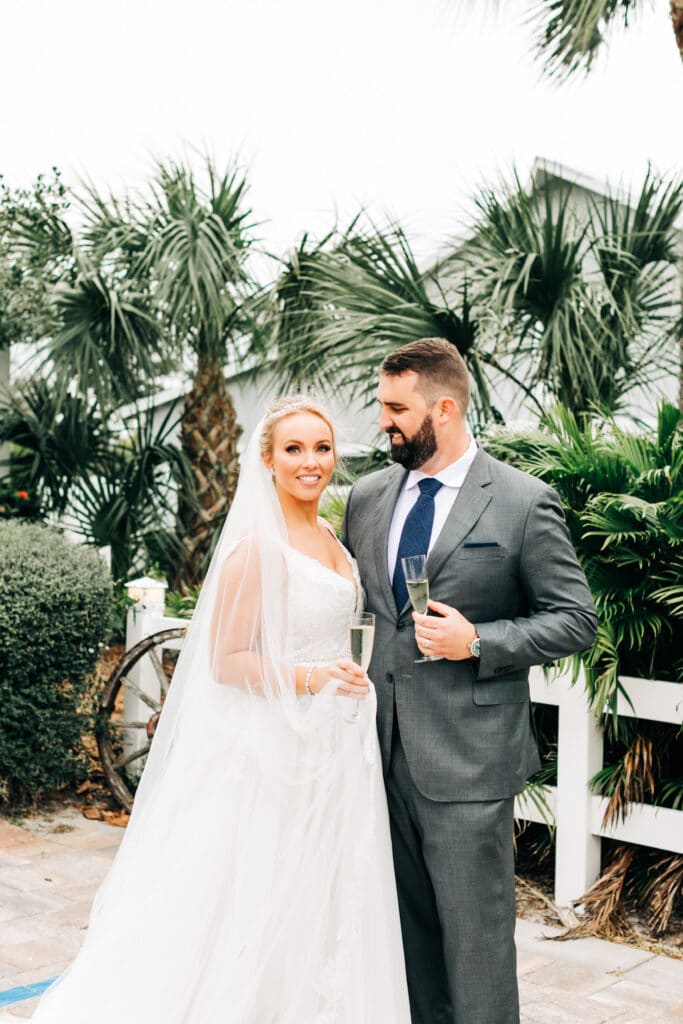 Tell us the story and inspiration behind your wedding.
I really wanted to create a luxurious rustic southern vibe with lots of white and green florals. With the beautiful oak trees and natural hanging moss, it just felt right. All of my colors were crisp whites, grays, and earthy greens, with a splash of light pink. The theme was clean, elegant, and timeless. I thought making the colors simple and neutral would highlight the organic beauty of the landscape – and it did!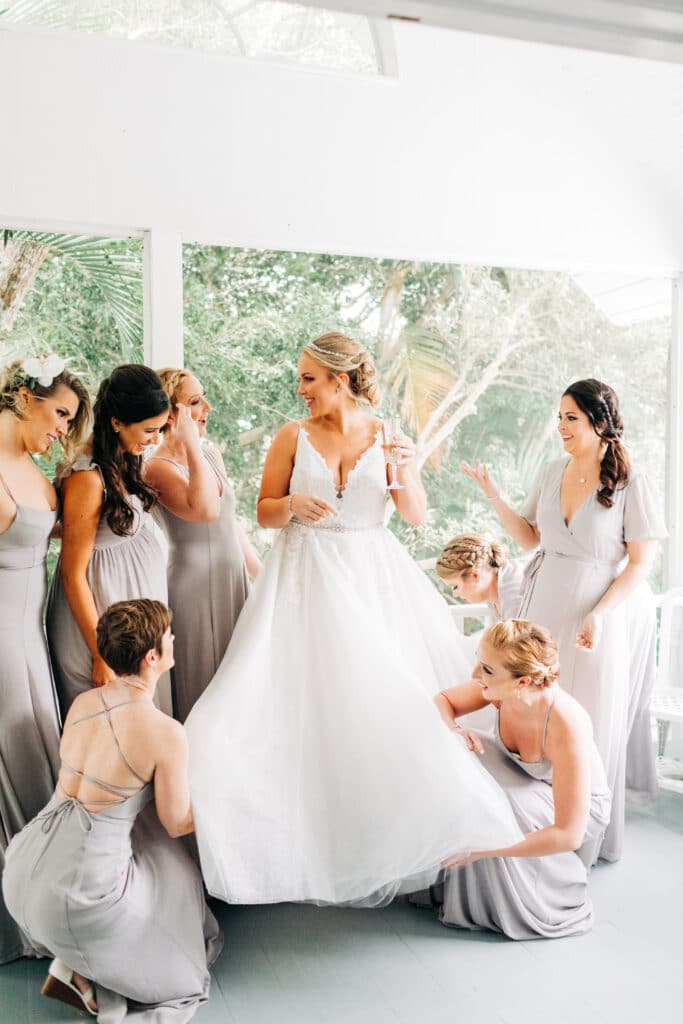 What were the reasons you chose Up the Creek Farms for your wedding?
My husband actually found it! After many venues failed to grab our attention, we realized a top priority of ours was privacy. Up the Creek Farms gave us the ability to have a beautiful landscape, open space, an entire property completely devoted to us and our guests. Also we loved that it was a little tucked away gem that didn't make us feel like a typical South Florida wedding!
What were the personal details of the wedding that are a great reflection of you as a couple?
One personal detail I added was having table names as cities we've traveled to with a picture of us there! I thought it was a nice touch that made guests at each table feel more connected.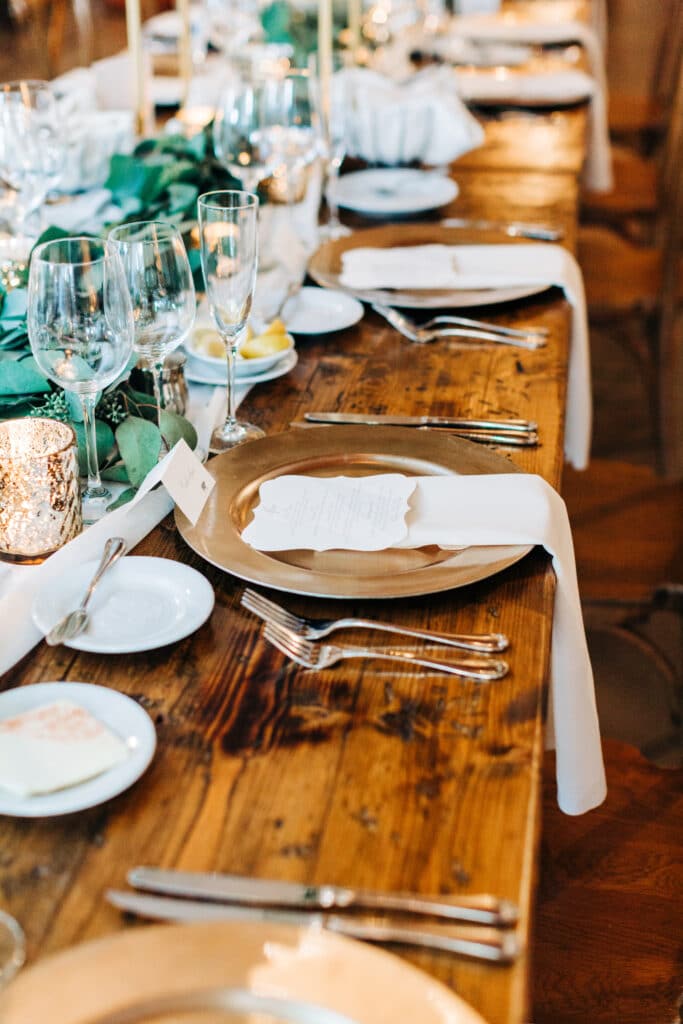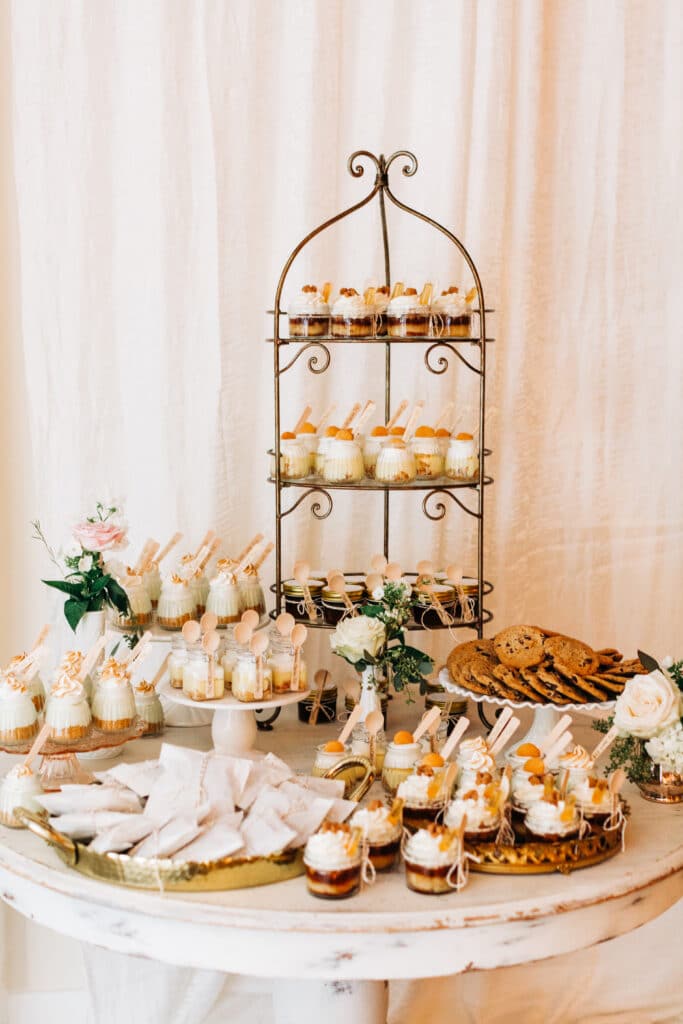 The day was surprisingly SO cold and windy but it made for a great story! Everyone was given blankets provided by the venue, and they snuggled next to each other as we said our vows. The day was absolutely perfect, and the Up The Creek Farms team made every moment seamless and stress-free.
What advice would you give to future Up the Creek Couples?
Utilize the space! We were able to have just over 100 guests and the space was perfect and spacious. Also, I hired a Prosecco cart to come in and serve bubbly during our pre-ceremony and cocktail hour. Up The Creek Farms is very open to accepting fun, outside vendors so personalize it and make it what you want! It's your day and it happens so fast. Be creative!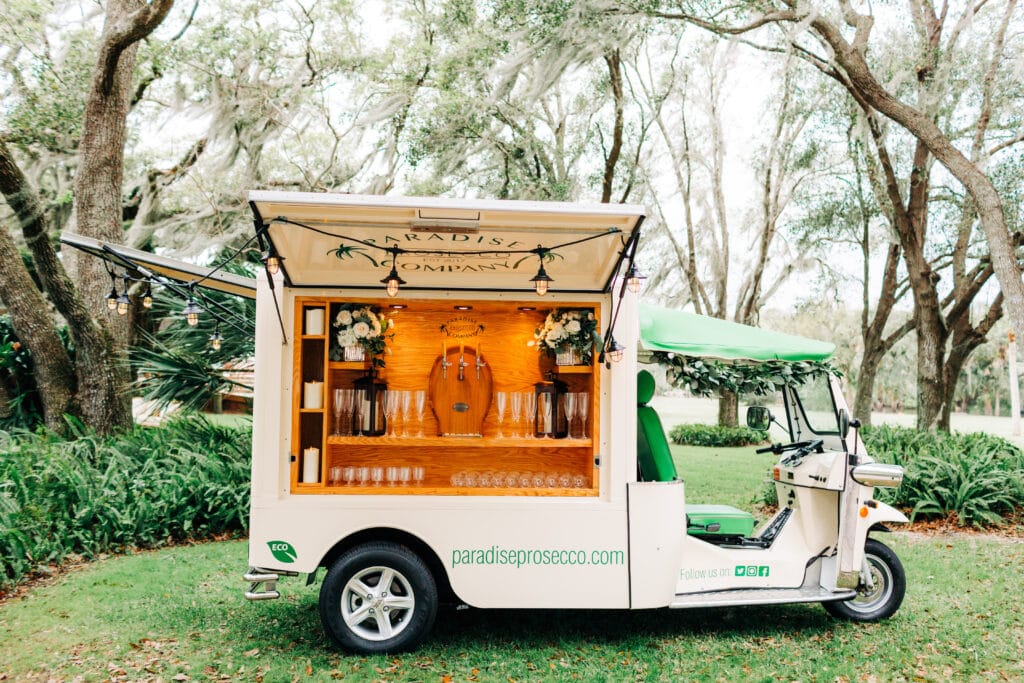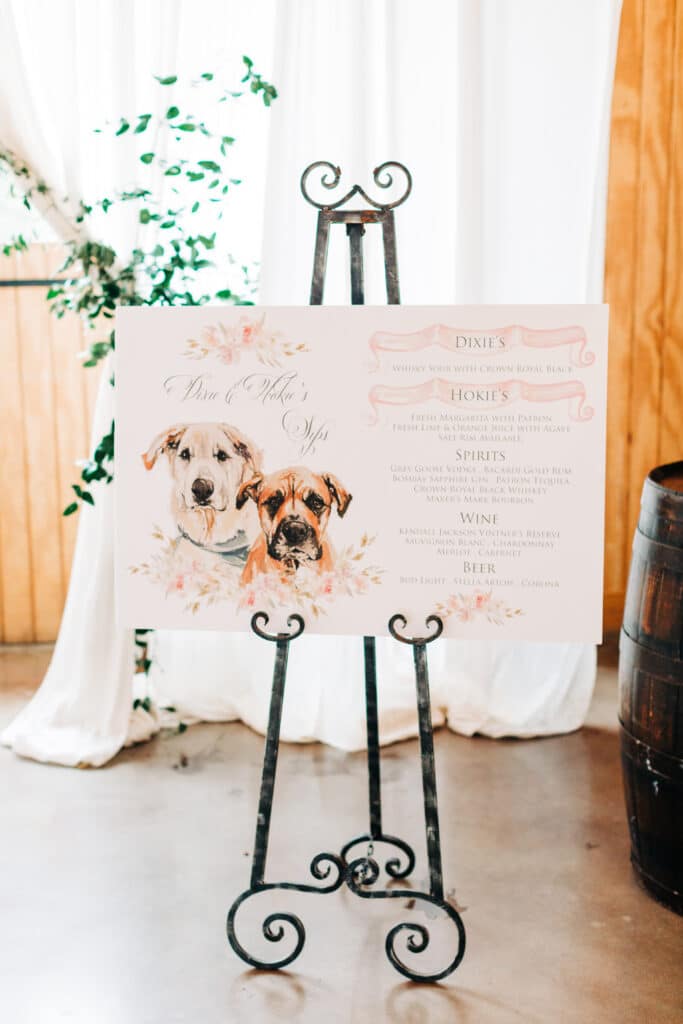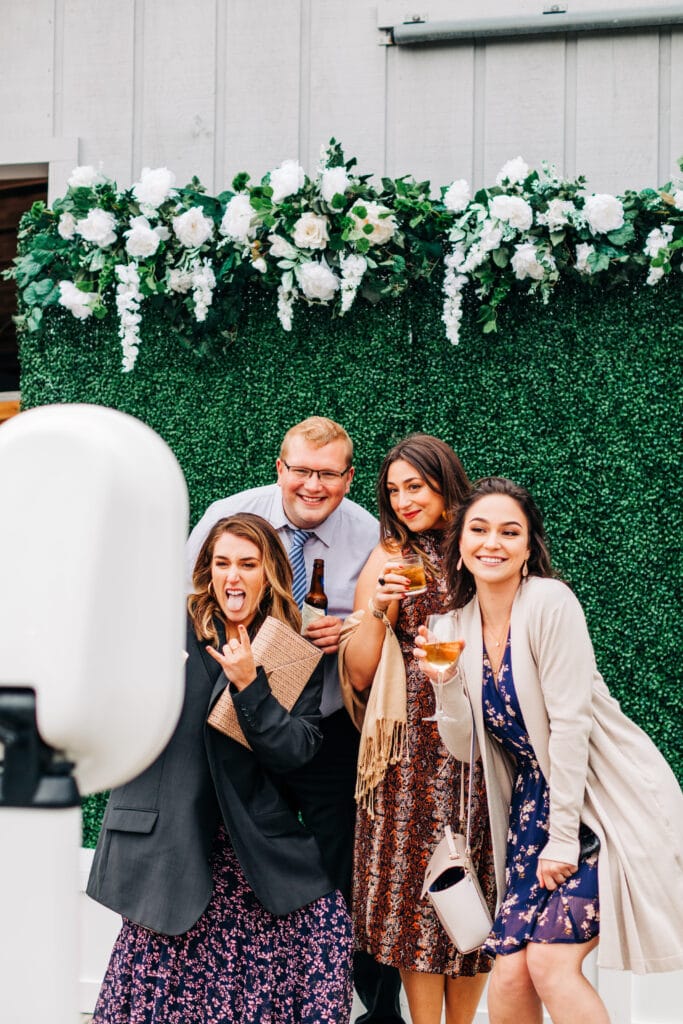 What was the most important lesson you learned while planning your wedding?
Get everything done as early as possible! My wedding planner was great at helping me through this. I would aim to be 95% done with planning a month before your actual wedding day. There are always going to be last-minute things but finalizing it early helps ENORMOUSLY so the bride and groom can use those last few weeks to really soak it all in!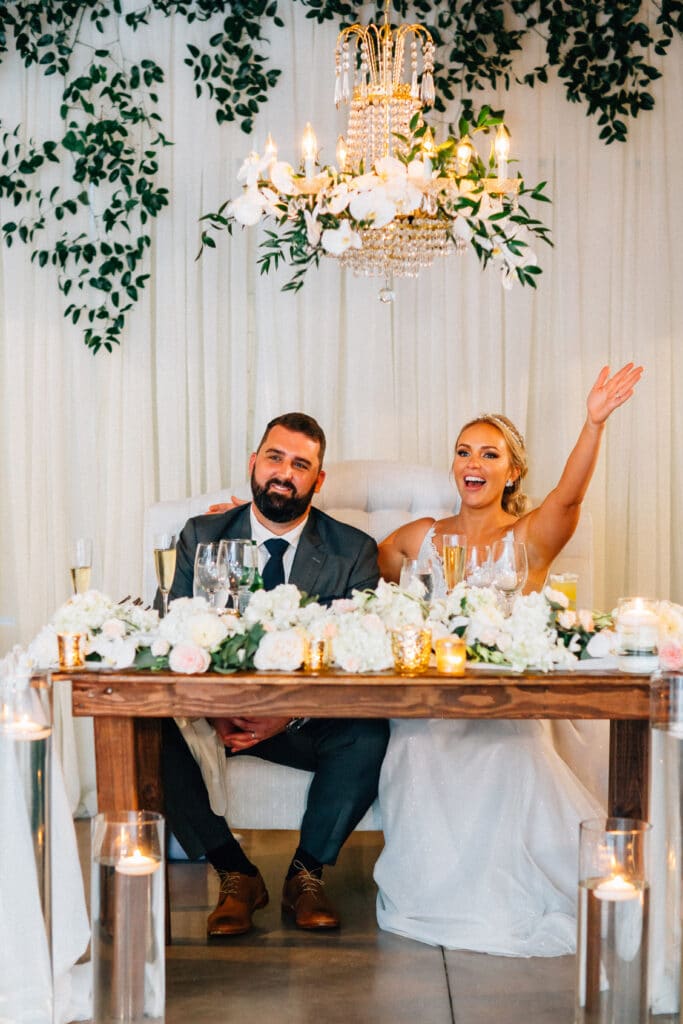 Thank you to all the vendors who made this Luxurious White & Green Wedding possible!
Up The Creek Farms Florals || Hayley Paige || The Black Tux || After A While Crocodile Stationery + Signage || Christina Craddock Photography || Golden Pineapple Events || Paradise Prosecco Cart || The Jewel Booth
Learn more about our all-inclusive wedding packages to start planning your stunning wedding here at Up the Creek Farms!