14 Ways To Use Holiday Decor For Your Wedding
'Tis The Season For Winter Bridal Inspo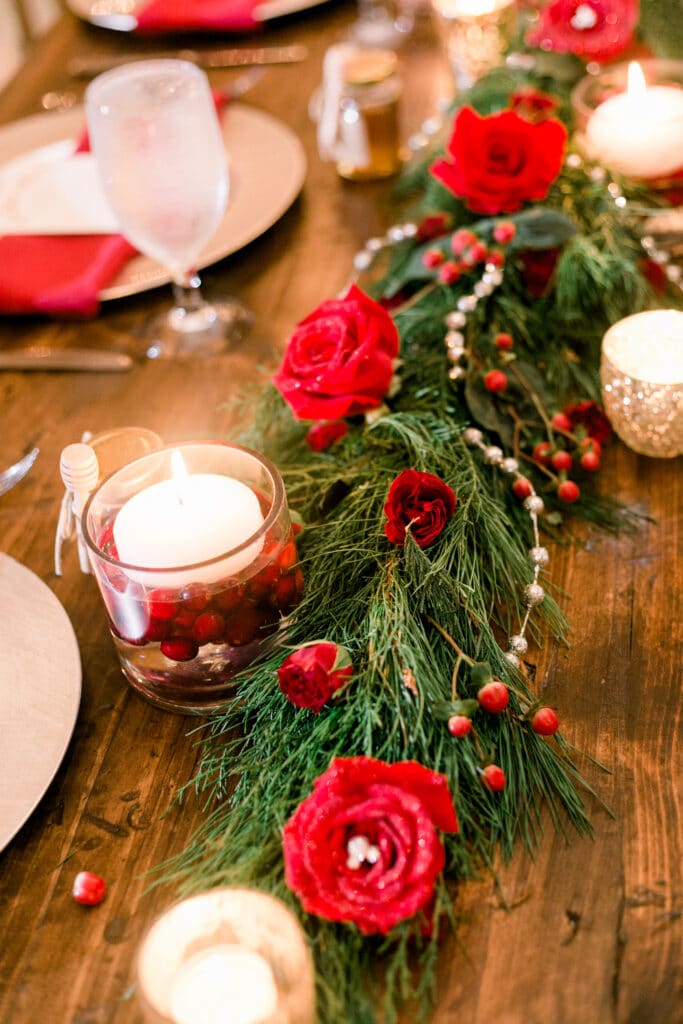 Planning a wedding during the cooler season gives brides fresh opportunities to have fun with their overall theme. Whether you're a classic bride or a Christmas junkie, we're going to show you 14 ways to use holiday decor for your wedding this winter! From holiday-themed details and bold greenery to romantic tablescapes, the options are endless for a dreamy winter wedding celebration. Just scrolling through this story will have you craving a warm cup of hot chocolate. So grab your mug and check out our 14 ideas for bringing your dream winter wedding to life this holiday season!
1. Ornament Guest Book
Consider this adorably festive wedding guest book idea. Your guests can sign their own personal Christmas ornament for you two to keep as forever keepsakes. They'll remember your special day every holiday season and you get a little piece of holiday decor too!
2. Holly In Your Bridal Bouquet
These small red berries, aka Holly, are a subtle but incredibly bold little festive touch to add to your winter wedding florals.
3. Pine Cones Instead of Buds
Nothing screams Christmas time like the perennial Pine Tree. Mixing a textural element like pine cones into your greenery gives your florals a rustic holiday vibe that's perfect for a barn venue like ours.
4. Hot Cocoa For Your Ceremony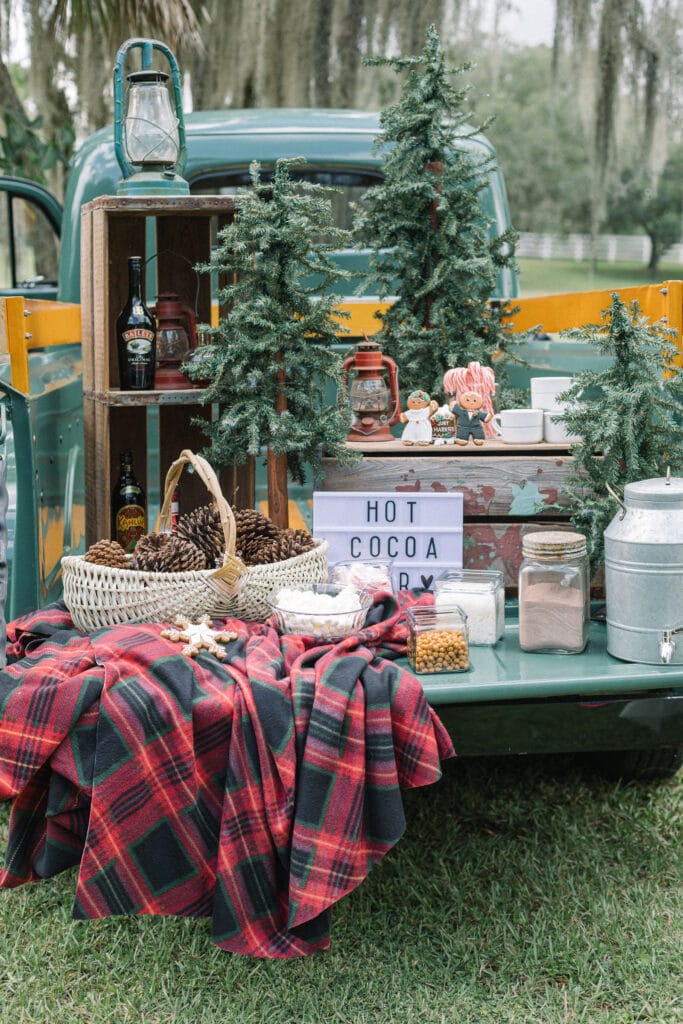 Winter weddings often mean celebrating outdoors in the colder temps. Give guests something they can warm up with like a cozy hot cocoa bar.
5. A White Ceremony Arch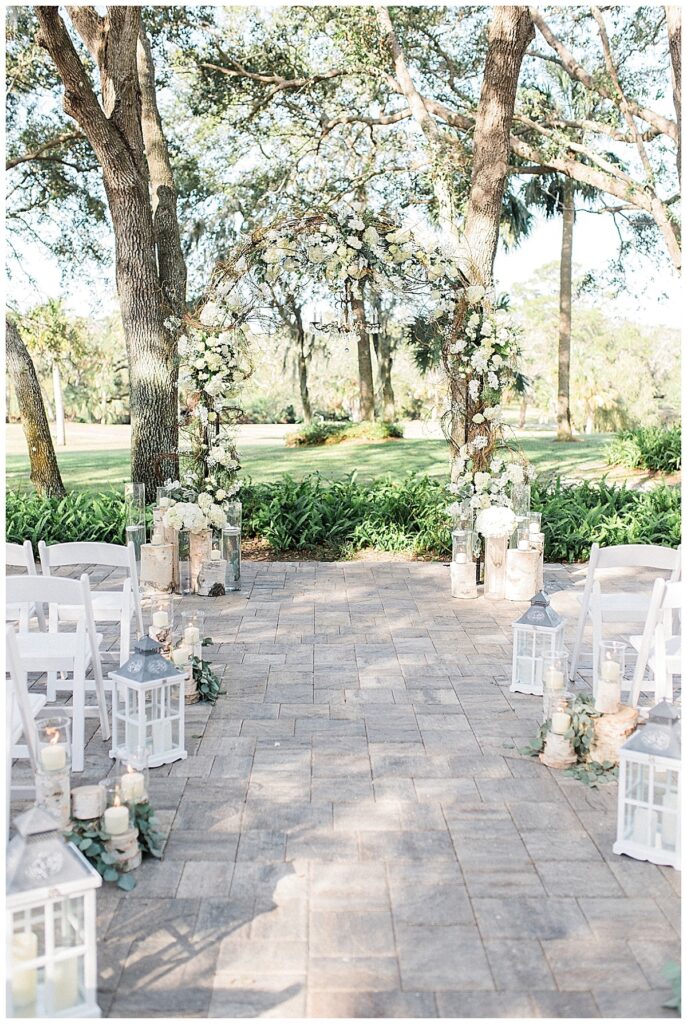 Transform your rustic Florida wedding ceremony into a winter wonderland setting with a white and silver arch. White accents like antique lanterns only add to this snowy mood!
6. Greenery Wall + Silver Hoops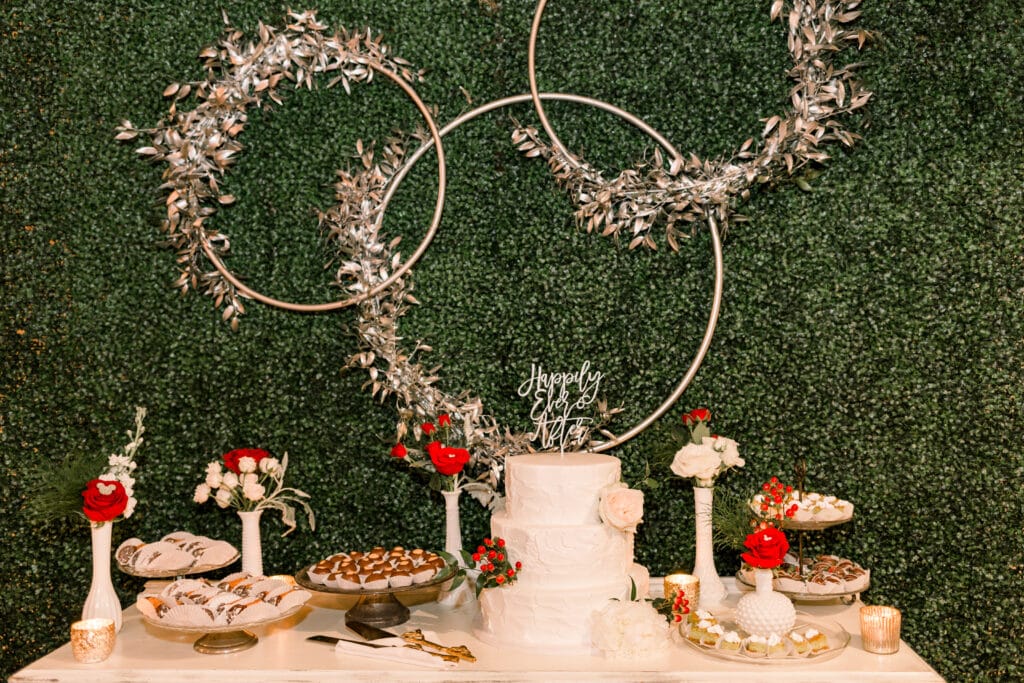 Add some festive flair to your holiday cake display with a gorgeous green backdrop and sparkly silver hoops.
7. Hunter Green Cocktail Linens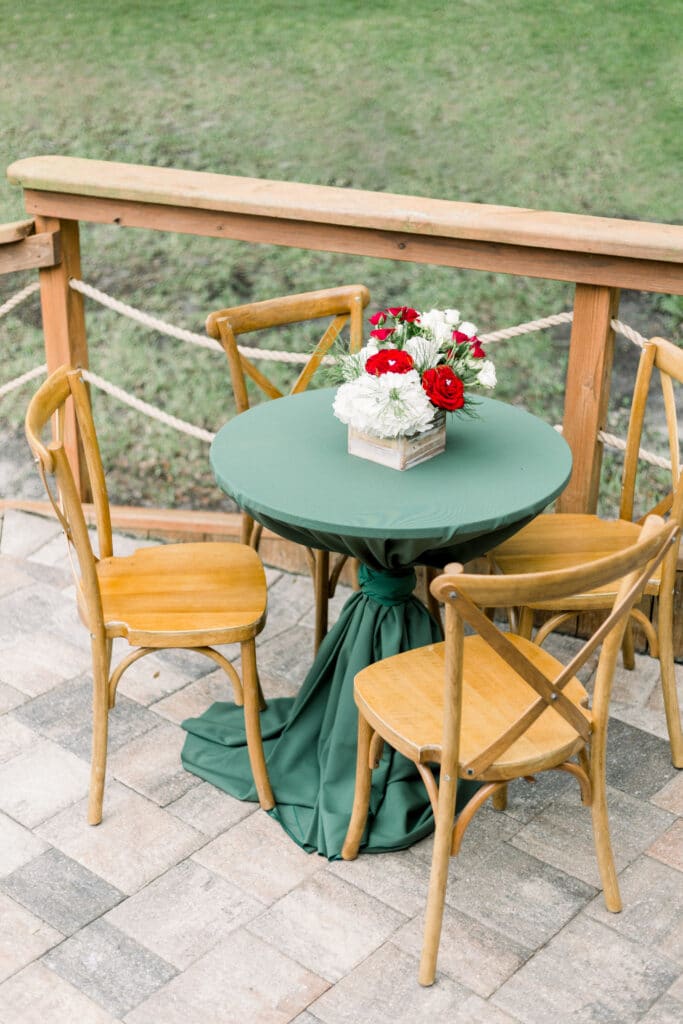 What goes better with bright pops of red flowers than deep green table linens? They're perfect for giving tablescapes a Christmas feel in a classic way.
8. Rustic Holiday Table Settings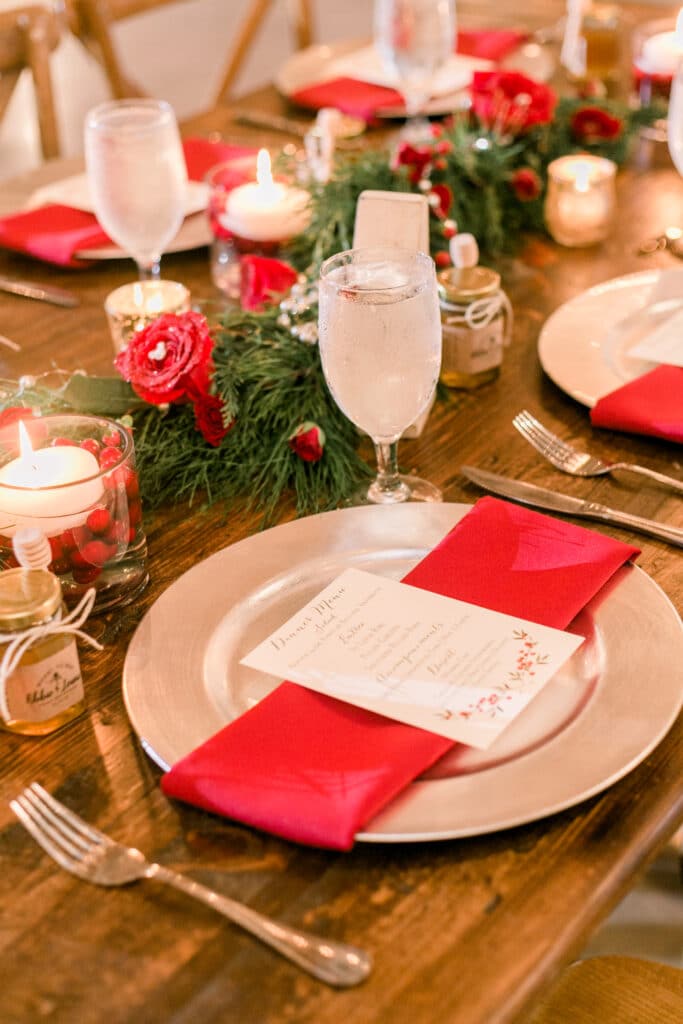 Your reception table decor doesn't have to be over-the-top to be Christmas inspired. Pair greenery with silver chargers and red linens for a clean, elegant wintery look.
9. Cozy, Winter -Inspired Furniture
Even if you're planning a South Florida wedding, give guests a cozy winter atmosphere with velvet vintage furniture and a mantle set with candles.
10. Antique Accents + Christmas Ceremony Florals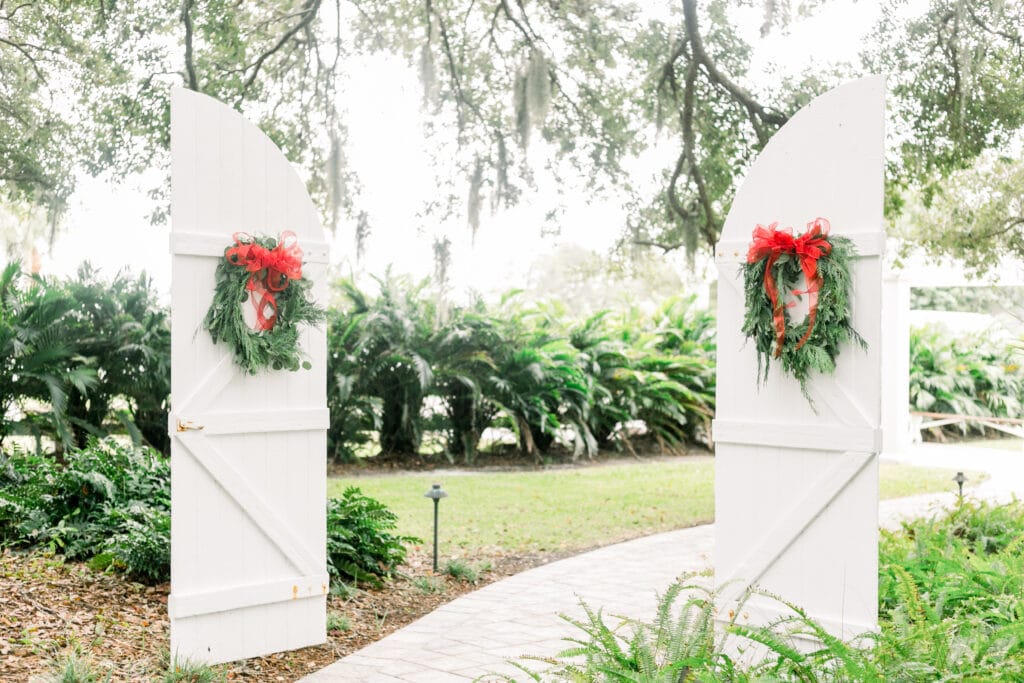 Holiday wreaths, winter greens and pops of red paired with rustic accents like antique lanterns give your ceremony a sophisticated southern theme that suits a Florida wedding during the holiday season.
Guests deserve a sweet treat to snack on when they first get to their seats. Give them a delicious Christmas cookie to kick off your reception in a warm wintry way.
12. Silver Table Runners
Nod to the holiday season with statement making silver table runners paired with sophisticated silver chargers. This would be great for a winter wedding including New Year's Eve!
13. A Cozy Christmas Sweetheart Table
Break up your wedding party farm tables with a festive red velvet settee for the newlyweds. It adds a stunning Christmas accent that'll compliment the rest of your holiday-inspired table decor.
14. Champagne For the Tables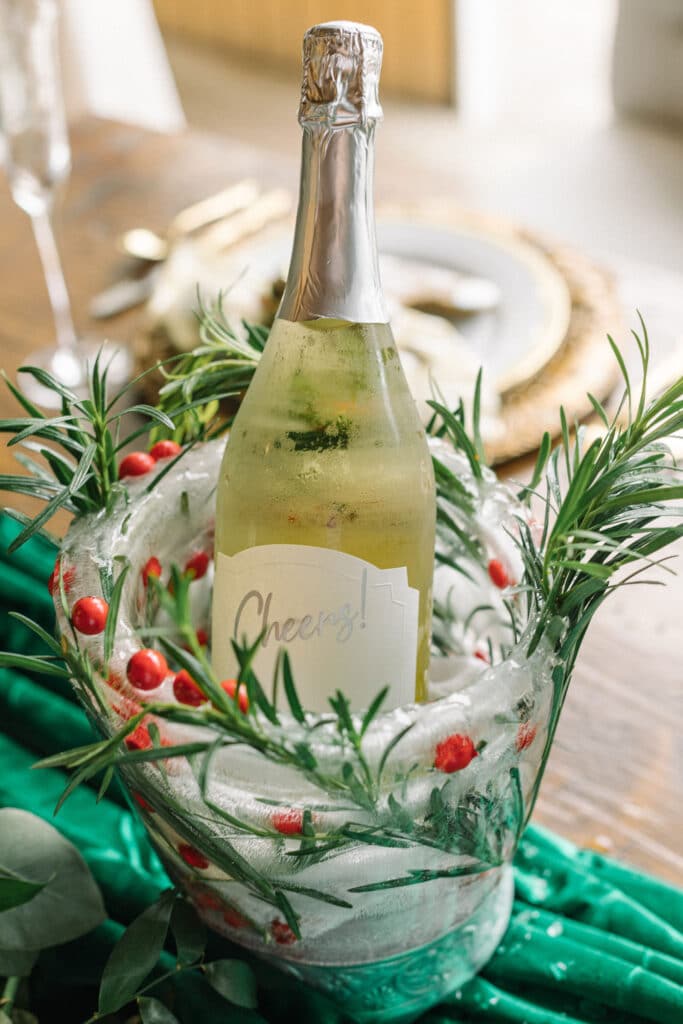 Last but not least, what's a fun holiday season without a classic bottle of bubbly?! Give each table something to cheers to like Christmas themed Champagne.