Outdoor Wedding Venues in Florida
Looking for the best outdoor wedding venues in Florida? Located less than 15 minutes from the beach, Up the Creek Farms is a hidden gem of a Central Florida outdoor wedding venue, with multiple outdoor venues and photo locations to choose from. If pictures are important on your wedding day, an outdoor wedding venue is great at providing natural lighting for your photographs. Golden hour lighting shines through the oak trees on our secluded property typically around the time a ceremony would take place.
Here is a list of the picturesque outdoor wedding ceremony and reception locations at Up the Creek Farms, located near Melbourne, Orlando, and Vero Beach, FL.
Outdoor Wedding Venues
Oak Cathedral Wedding Ceremony Venue
The Oak Cathedral is a majestic oak tree wedding venue, a dream for outdoor ceremonies. Its shaded canopy offers sweeping vistas of the entire property. The centrally located stone patio, surrounded by beautifully manicured ferns and low profile lighting, provides an elegant setting to share your vows. Handcrafted farmhouse benches and classic white garden chairs are provided. A custom set of white doors aids in the grandeur of your interest in the ceremony site. The Oak Cathedral can also be utilized as a breezy, beautiful, cocktail or lounge space.
The Point on the Creek
Nestled along Goat Creek, an estuary to the Indian River Lagoon, The Point is a natural peninsula of land at the base of Up the Creek Farms. Surrounded by water, The Point offers the most intimate and secluded ceremony space on the property, as well as a natural, picturesque setting for engagement photos. You'll love it if your dream is a natural garden wedding venue in Florida. Utilize our classic gheenoe if you're feeling adventurous and keep your eye out for Florida fauna – if you are lucky, you may capture an encounter with a manatee or osprey.
Dockside
For an intimate elopement, the dock is a quaint outdoor wedding venue to exchange vows. This small structure is covered providing escape from the sun and any chance of rain.
Grand Lawn
With the largest oak on the property, this natural outdoor wedding ceremony location is ideal for small weddings and elopements. It's also a great location to host a cocktail hour. Encourage some healthy competition with a friendly game of cornhole on our expansive lawn, or lounge and relax as the live oaks sway above you on classic vintage furniture provided by Crystal & Crates rentals.
Boathouse Ceremony
In Florida the weather is always unpredictable and having a Plan B indoor wedding venue is very important. Tents can be costly and also not 100% protected from the elements. To ensure the comfort and safety of your guests, Up the Creek Farms is prepared with a contingency plan inside the Boathouse. Another upside, arrangements can be made closer to your ceremony time, where we have a better forecast for the weather. As you can see, it's a stunning plan B!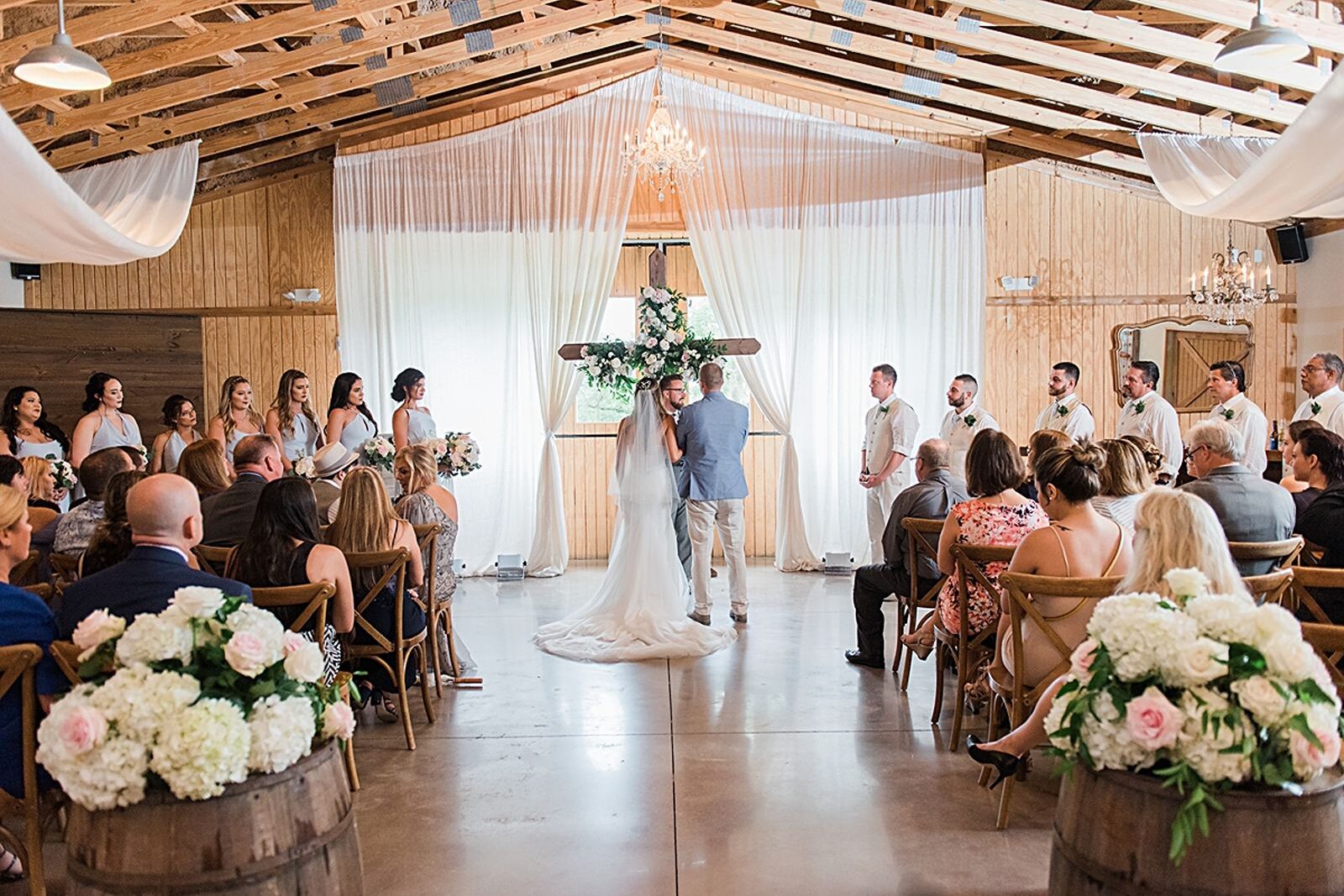 Cocktail Patio & Boathouse Deck
The outdoor patio on the deck of the Boathouse overlooks the lawn and provides guests with an enjoyable place to sip and see. This is the perfect outdoor venue for cocktail hour. Quench your guests' thirst palettes with a southern-style cocktail hour serving signature drinks passed through a pulley style bar window.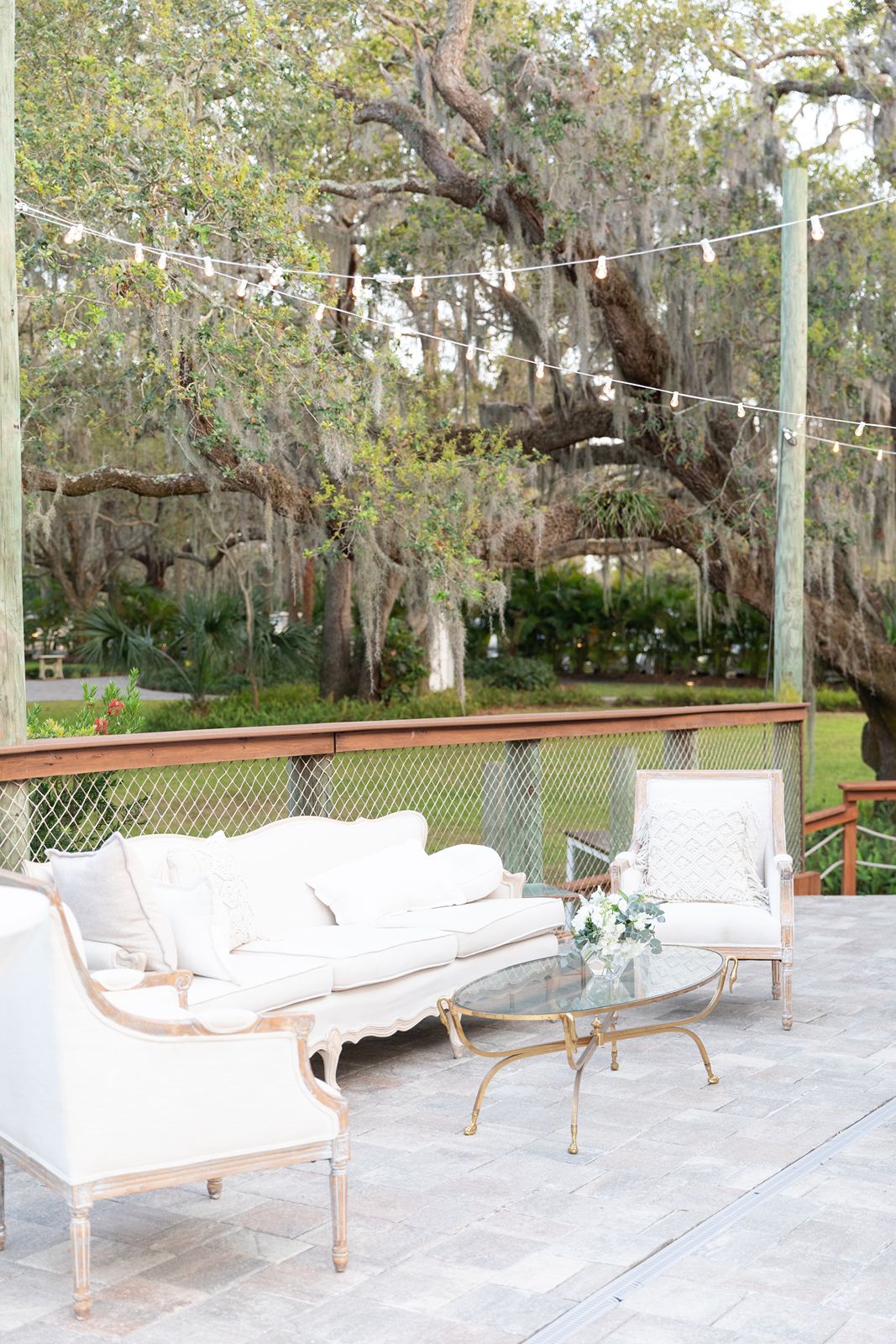 Indoor Wedding Venues & Spaces
We understand how important beautiful outdoor spaces are for a wedding. October through May are the best months for an outdoor wedding in Florida. When many states are snowed in, we are experiencing the most beautiful weather. However, anytime of year in Florida you'll absolutely want to combine indoor spaces for getting ready and dining and dancing!
Historic Decklan House
Atop a hill, and up the creek, sits the two-story Decklan House. Available for day-of wedding party preparation, photography or bridal accommodations, the renovated home provides clients with comfortable, unique and convenient on-site amenities. Built in 1878, this historic Farmhouse boasts character inside and out. In the spirit of the rest of the property, the home combines old and new – from hard plank-wood floors to updated decor and modern bathrooms. French doors and wide porches envelope the entire home, revealing breathtaking views of the surrounding landscape.
A dressing suite with a comfortable lounge space, four hair and makeup stations, multiple mirrors, and space to hang dresses are all part of the Decklan House amenities. Upstairs in the Billiard's loft, you'll find a beautiful slate pool table, mini fridge, coat closet.
Boathouse Reception
While we love outdoor wedding venues in Florida for beautiful ceremonies, cocktail hour, portraits, and fun, an indoor wedding reception will keep your guests comfortable. The centerpiece of the Up the Creek Farms property is the stately Boathouse, a 6,000-square-foot reception space that can accommodate up to 175 seated guests.
This classic wood-framed building features east-facing French doors to allow for a creek breeze and dramatic views of the property. The Boathouse was designed with Florida's climate in mind, and includes all modern conveniences — air conditioning, a custom mahogany bar, grand sliding barn doors, and beautifully appointed bathrooms. An on-site commercial-grade prep kitchen is available for professional caterers and event vendors to ensure your event runs smoothie in both the front and the back of the house.
Choose Up the Creek Farms for Your Outdoor Garden Wedding
With so many beautiful outdoor spaces, Up the Creek Farms in Central Florida is the perfect choice for your outdoor wedding.
Request pricing below to find out more about our stress-free all-inclusive wedding and elopement packages (we do it all, from catering to florals and more!)